Unleashing the Dragon: how Chinese players are reclaiming the local surgical robot market
Chinese companies are storming the gates of the surgical robot market in China, leaving established international players scrambling to defend their turf in this country. Will they survive the onslaught?
Bottom line
The Chinese surgical robot market remains largely untapped, holding vast potential for growth and expansion, yet it has been controlled by a select few international heavyweights. But change is coming as local players enter the fray and threaten to put an end to the oligopoly of imports. With the prospect of disruption looming, industry leaders must brace themselves for a new era of competition.
Executive Summary
China's surgical robot market: an untapped goldmine
The role of surgical robotics is becoming increasingly important as it offers numerous advantages over conventional surgery and helps address the shortage of medical personnel.

China's surgical robot market is expected to reach $6.5bn by 2030 with a staggering 36% CAGR, driven by the country's commitment to innovation and the growing demand for high-quality healthcare services from the middle class.

The market is expected to see significant disruption in the areas of laparoscopy (operation via small incisions in the abdomen or pelvis), percutaneous (via small skin incisions), panvascular (intervention to treat cardiovascular diseases), natural orifices (surgeries via a natural orifice), and orthopedics.
The Dragon awakens: domestic players are changing the game
Companies are working on making surgical robots more flexible, adaptable, and affordable by incorporating advanced technologies such as 5G, AI, machine learning algorithms, and augmented reality.

China is at the forefront of innovation, using 5G technology to enable remote surgeries and making their robots more affordable thanks to a combination of domestic manufacturing, tariff avoidance, and cost-efficient labor.

With the government's support, Chinese manufacturers have the potential to rapidly increase their market share, posing a significant challenge for established market leaders. Not just in China but also in the rest of the world.
Who is shaking up the status quo?
In the laparoscopic field, MicroPort MedBot's second-generation Toumai robot aims to compete with Intuitive Surgical's da Vinci system at a 30% lower cost.

The FDA's clearance of the MicroPort MedBot's Skywalker system is expected to have a significant impact on the field of orthopedic surgery.

Currently, there are very few options for panvascular, natural orifices, and percutaneous interventions, but the first batch of surgical robots is coming.
China's surgical robot market: an untapped goldmine
The new era of precision medicine
The field of precision medicine has seen remarkable progress in recent years, with the rise of robotic-assisted surgery representing a significant leap forward. Thanks to their enhanced precision and dexterity, surgical robots offer a range of benefits over traditional surgery, including better clinical outcomes, reduced patient trauma, and quicker recovery times. Additionally, these devices have the potential to extend healthcare access in remote areas and help address healthcare worker shortages.
Today's advanced surgical robots are equipped with cutting-edge sensors and software. They provide real-time feedback to surgeons and leverage imaging technologies such as 3D and 4D imaging, high-definition cameras, and endoscopes for high-resolution visualization. Utilizing a range of instruments, such as graspers, scissors, and retractors, these robots are controlled by surgeons through a console connected (sometimes remotely) to the robot's arms.
Surgical robots take center stage in China
China has been making significant strides in the field of robotic surgery. At a compound annual growth rate (CAGR) of 36%, its market is projected to reach $6.5bn by 2030. China's government's favorable policies, combined with a growing middle class's demand for high-quality healthcare services, are fueling this growth.
Surgical robots have not yet gained widespread usage in China. While laparoscopic surgical robots are the most commonly used medical robots in China, their market penetration rate is currently less than 1%, in contrast to the 13% penetration rate in the U.S. Therefore, there is a significant opportunity for companies that enter the market early to gain a strong competitive advantage. Early movers benefit from high switching costs and barriers to entry.
Key areas of disruption
The extremely low penetration of surgical robots in China highlights the country's immense potential for growth in this area. Apart from laparoscopic surgeries, different types of procedures such as percutaneous, panvascular, natural orifices, and orthopedic surgeries could benefit from the use of these systems. By 2026, laparoscopic and percutaneous procedures are expected to account for almost 80% of all robotic-assisted surgeries in China. To support this growth, the Chinese government is starting to cover some of the costs of these technologies through medical insurance in Beijing and Shanghai, while hospitals are allocating budgets for the purchase of robots.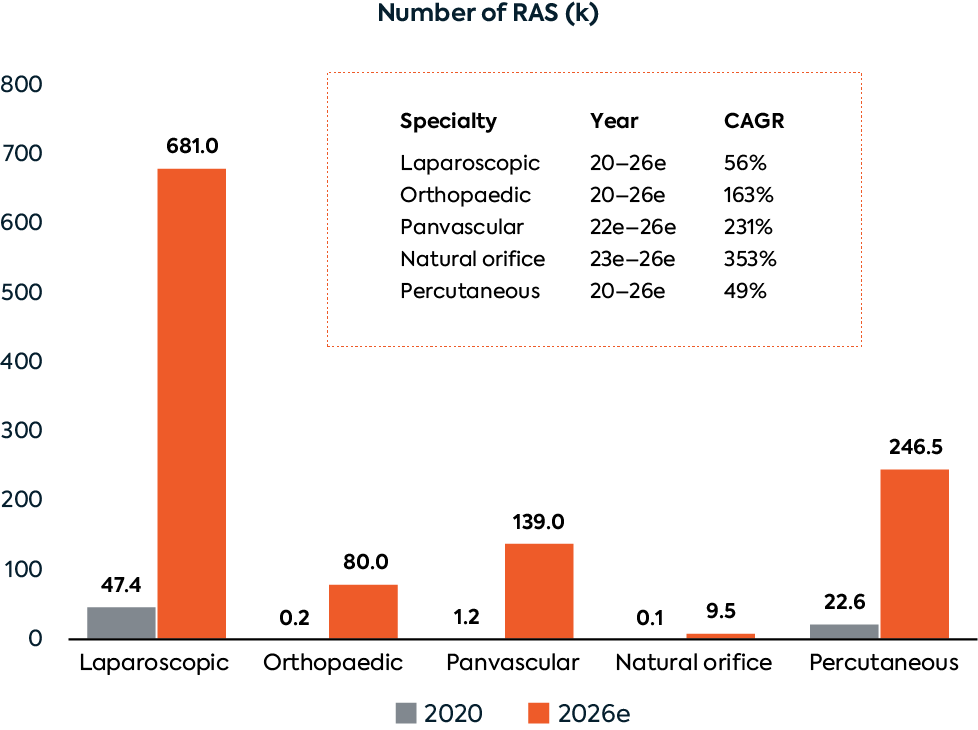 The Dragon awakens: domestic players are changing the game
The future of robotic surgery
Surgical robots have already transformed the medical industry, improving surgical outcomes and reducing recovery times. But the potential for innovation in this field is vast. Companies are now focused on making surgical robots more flexible, adaptable, and affordable by incorporating AI and machine learning algorithms. These technologies enable surgical robots to learn from past procedures and better adapt to different patient anatomies and surgical scenarios. And features like force feedback, haptic feedback, and augmented reality can further improve surgical outcomes by providing surgeons with a better sense of touch and depth perception.
The Dragon's sharpest edge
China has been at the forefront of innovation, having completed the world's longest-distance robotic surgeries using 5G technology to connect two hospitals almost 5,000 kilometers apart. Incorporating advanced technologies such as 5G has made remote surgeries a reality. This capability could help lower-tier regions in China benefit from high-quality medical resources and ensure healthcare fairness.
The medical robot market in China has been primarily controlled by foreign players, such as Intuitive Surgical for laparoscopy, Stryker, and Medtronic, for orthopedics. However, penetrating this market has been challenging due to complex regulations and unfamiliar market dynamics. The scarcity of competitors in the market has resulted in surgical robots commanding exorbitant prices, further impeding their widespread adoption. But Chinese manufacturers promise to bring costs down by taking advantage of various factors such as domestic manufacturing, which generally costs less than producing goods overseas, avoiding tariffs by manufacturing their robots within China, and using cost-efficient labor. Combining these factors can help local players make their robots more affordable.
China's rise to the top
With the government's support, local manufacturers in China are making significant strides in developing advanced technologies. In just the last two years, more than 12 surgical robots made by Chinese companies have been approved for clinical use, and competition is expected to grow even further, with at least six new robots anticipated to be released in 2023. The upcoming generation of domestically-produced robots will be as effective as imported systems and at least 30% cheaper. This also opens up new opportunities for domestic manufacturers to compete globally. Indeed, while the imminent entry of local players into the Chinese surgical robot market may not pose an immediate threat to the dominance of international leaders, with China accounting for less than 15% of their revenue, its long-term consequences could be significant. Firstly, increased competition may limit their growth opportunities in China. Secondly, the expansion of Chinese players beyond their local market is a clear disruption risk.
Who is shaking up the status quo?
Meet the leaders and the challengers
Some Chinese producers, including MicroPort MedBot, WEGO, Harbin Sagebot Intelligent Medical Equipment, and Edge Medical Robotics, have already products available in the market but it is their highly anticipated next-generation models that are poised to be the true game-changers.
MicroPort MedBot is a noteworthy player due to its involvement in all surgical robot procedures. As we analyze the fastest-growing indications and emerging players that merit close attention, the company stands out as a key actor to keep an eye on.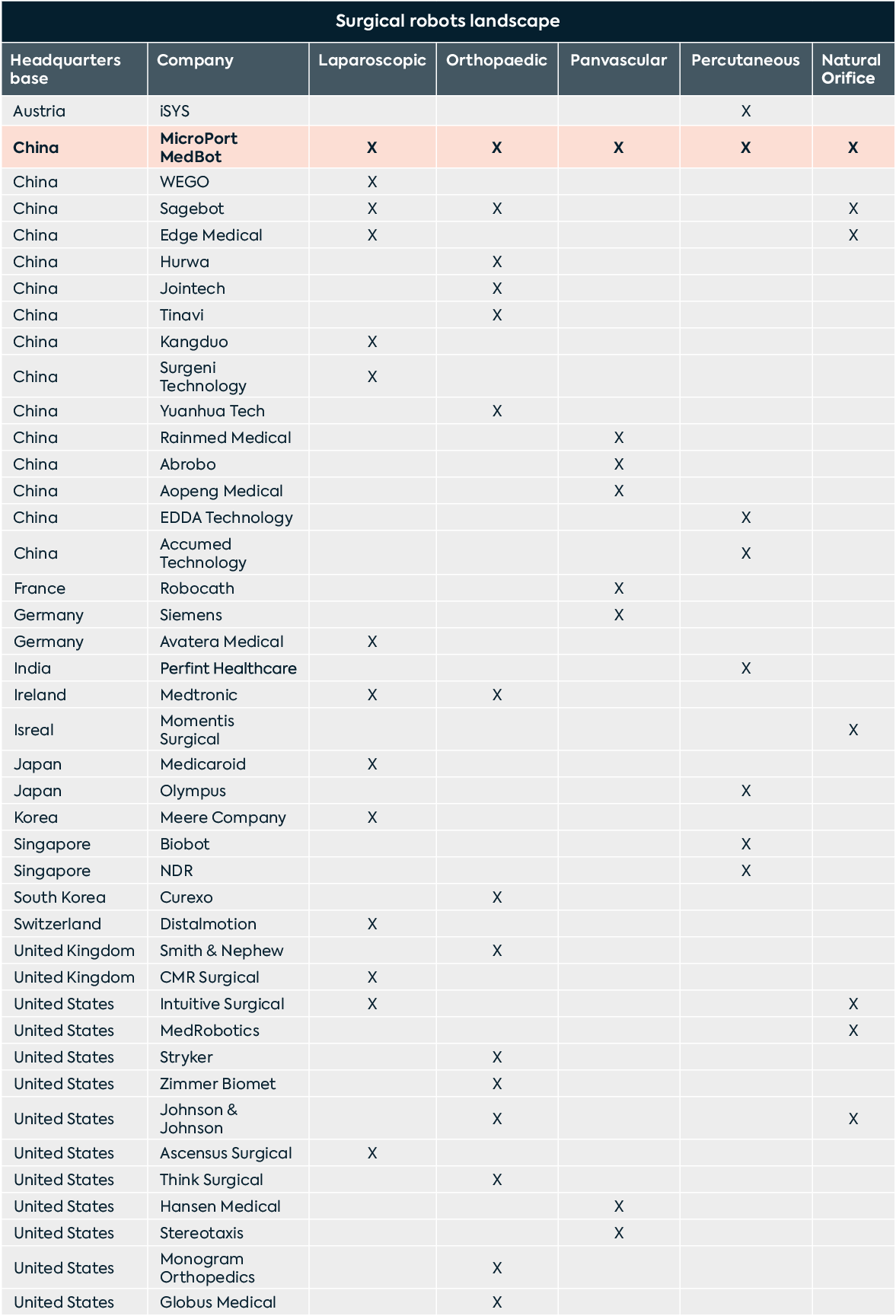 Laparoscopy: breaking the monopoly
Intuitive Surgical is the leading player in the global laparoscopic robot market with its da Vinci surgical system, but it has faced difficulties in gaining a foothold in China, where less than 10% of top-tier hospitals currently use its system. MicroPort MedBot, on the other hand, is planning to launch its second-generation Toumai robot in the first half of 2023. The Toumai robot is capable of performing all specialties that the da Vinci system currently covers, with similar outcomes, but at a 30% lower cost.
The term "NMPA" in the table refers to the National Medical Products Administration, which is the regulatory body responsible for overseeing the safety and efficacy of medical products in China (formerly known as the Chinese Food and Drug Administration (CFDA)). The "China NMPA green path" is a newly implemented fast-track regulatory process in China that accelerates the examination and approval of innovative medical devices. This process is similar to the "Breakthrough" designation in the United States and is intended to promote the development and commercialization of innovative medical technologies in China.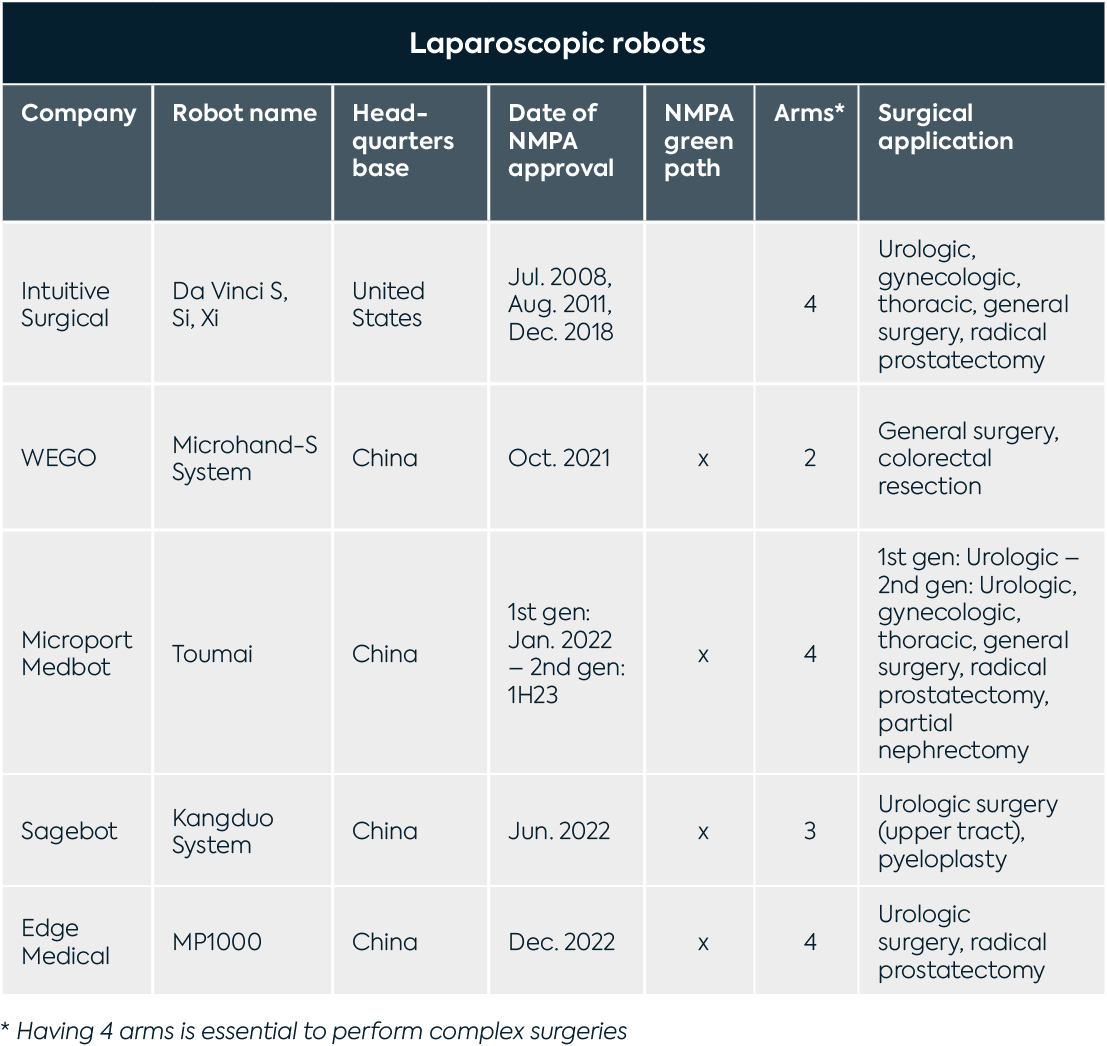 Orthopedics: from local to global
In China, RIO, developed by U.S. company MAKO (acquired by Stryker), was the only joint arthroplasty robot before 2022, after which four domestic products received NMPA approval. The recent clearance of MicroPort MedBot's Honghu (Skywalker) system is expected to significantly impact the field of orthopedic surgery. Surgeons using the system can perform procedures with greater accuracy and efficiency, leading to reduced trauma to surrounding tissues and a faster recovery time for the patient. Among the five NMPA-approved joint replacement surgical robots in China, Honghu is the only domestic one that has obtained approval from the U.S. and the E.U.

The uncharted territories: panvascular, natural orifices, and percutaneous
Currently, there are very few NMPA-approved surgical robots in the panvascular, natural orifices, and percutaneous intervention fields.
In panvascular field, companies are still at a relatively early developing stage, but the potential market opportunity remains very significant given the increasing prevalence of coronary artery disease. MicroPort MedBot's R-ONE is the first robotic system for panvascular intervention (coronary angioplasty) to have completed a multicenter clinical trial in China and is pending approval this year.
For natural orifices, the first Chinese surgical robot is expected to be commercially available in 2023. Developed by Broncus Holdings, the company has a pipeline of trans-bronchial treatments and is the first and only Chinese company with a bronchoscopic solution for chronic obstructive pulmonary disease (COPD) and lung cancer in China. Broncus is competing with Microport MedBot's Trans-bronchial Surgical Robot (estimated approval in 2025).
For percutaneous interventions, there are five prominent players in the Chinese market, two international ( Perfint Healthcare, and Olympus), and three local (EDDA Technology, MicroPort MedBot, and Accumed Technology). Of these, two have products that are already under review for NMPA approval: EDDA's SI-ROBOT (for thoracic, Hepato-pancreato-biliary (HPB) cancer, urology) and MicroPort MedBot'S iSR'obot Mona Lisa (for transperineal prostate biopsy).
Conclusion
The surgical robot market has significant implications for the future of healthcare. With advanced technologies like 5G, surgical robots can reach even more patients, especially in remote areas, while reducing costs and improving surgical outcomes. A handful of established players, thanks to high barriers to entry and exorbitant switching costs, have managed to maintain their leading positions for years. But the days of oligopoly are numbered as the surgical robot market is set to be transformed by a new wave of innovation and competition.
China's rise to the top has been impressive, with local companies steadily increasing their presence in the market. With aggressive pricing, advanced technology offerings, and supportive government policies, some of these emerging players are expected to challenge the dominance of established leaders.
As highlighted recently, Atonra is working with a local partner in China in order to leverage common knowledge and benefit from the expected long-term growth in the country's markets across all our portfolios. In our Bionics strategy, we are currently exploring investment opportunities, with a particular focus on the rapidly expanding surgical robot industry.
Catalysts
Recovery of surgical procedures. The COVID-19 pandemic and the Zero COVID policy caused a drop in surgical procedures. As normalcy returns, usage of robotic surgical systems is set to recover quickly after a short initial period of disruption.

Government policies. The Chinese government has implemented favorable policies and expanded insurance coverage to facilitate the adoption of surgical robots, including a five-year development plan aimed at accelerating the integration of robotics into medical devices, and low-interest government loans for medical device purchases.

Approval of cheaper robots and economic uncertainty. The approval of domestically-produced surgical robots, which come at a lower cost, creates a favorable environment for the widespread adoption of surgical robots. Price is especially important during economic downturns when cost-saving measures become critical.
Risks
Overcoming the advantages held by established players. New entrants may have strong competitive advantages, but they face significant obstacles in gaining market share in the face of leading players with strong brand recognition and established relationships with healthcare systems.

Lack of regulatory oversight. The regulatory environment in China may not be as stringent as in other countries, which could lead to the introduction of low-quality or unsafe surgical robots into the market. This could potentially harm patients and erode trust in the technology.

Time and resources required for training. Surgical robots require specialized training for healthcare professionals who will be operating them. Short-term, this can be a time-consuming and resource-intensive process, which could impact the adoption of surgical robots in China.
Companies mentioned in this article
Accumed Technology (Not listed); Broncus Holdings (2216); EDDA Technology (Not listed); Edge Medical Robotics (Not listed); Harbin Sagebot Intelligent Medical Equipment (Not listed); Intuitive Surgical (ISRG); Medtronic (MDT); MicroPort MedBot (2252); Olympus (7733); Perfint Healthcare (Not listed); Stryker (SYK); WEGO (1066)
Back to all articles
Explore:
Disclaimer
This report has been produced by the organizational unit responsible for investment research (Research unit) of atonra Partners and sent to you by the company sales representatives.
As an internationally active company, atonra Partners SA may be subject to a number of provisions in drawing up and distributing its investment research documents. These regulations include the Directives on the Independence of Financial Research issued by the Swiss Bankers Association. Although atonra Partners SA believes that the information provided in this document is based on reliable sources, it cannot assume responsibility for the quality, correctness, timeliness or completeness of the information contained in this report.
The information contained in these publications is exclusively intended for a client base consisting of professionals or qualified investors. It is sent to you by way of information and cannot be divulged to a third party without the prior consent of atonra Partners. While all reasonable effort has been made to ensure that the information contained is not untrue or misleading at the time of publication, no representation is made as to its accuracy or completeness and it should not be relied upon as such.
Past performance is not indicative or a guarantee of future results. Investment losses may occur, and investors could lose some or all of their investment. Any indices cited herein are provided only as examples of general market performance and no index is directly comparable to the past or future performance of the Certificate.
It should not be assumed that the Certificate will invest in any specific securities that comprise any index, nor should it be understood to mean that there is a correlation between the Certificate's returns and any index returns.
Any material provided to you is intended only for discussion purposes and is not intended as an offer or solicitation with respect to the purchase or sale of any security and should not be relied upon by you in evaluating the merits of investing inany securities.
Contact