The "Biosimilars" clock is ticking for blockbuster drugs.
By 2030, biologics (drugs made from living organisms), worth some $170bn, will lose patent protection. It is over ten times the current market. The global players along the supply chain are vying to position themselves to capture a share of this juicy market, and so does atonra.
Bottom line
Biosimilars are copies of off-patent biotech drugs. The current ~$15bn biosimilars market is prepping for the arrival of over $170bn of annual combined drug sales, for which patents are expiring. Biosimilars are not just simple copies of an existing chemical drug; they undergo clinical trials and are notably hard to manufacture. High barriers to entry mean money flows into the hands of the few. With few pure players, we are building exposure through the most specialized supply chain players, which could capture over $500 to $900bn of biosimilar-related development costs.
Executive Summary
The lucrative but complex business of Biosimilars
Biosimilars are essentially the generics of Biotech drugs, with a twist.

Thanks to the forthcoming " Patent cliffs, " the ~$15bn market looks ripe with opportunities.

The complexity of manufacturing is a battle benefitting the whole biotech supply chain.
Biosimilars impact the worldwide health economy
U.S.: Pharmacy Benefit Managers and BioPharmas still counter Biosimilars' adoption, but how long?

E.U.: By simplifying the clinical trial rules, the time to market will shrink for Biosimilars.

ROW: biosimilar is the way to kickstart a cheaper biotech industry anywhere, with China and India at the forefront.
The future of the biosimilar market is especially bright for suppliers
Biosimilars > generics: margin compression is slower and offset by production gains.

Two deals equating to ~1/3 of the biosimilar market happened this year alone, yet the lack of pure players lowers the possibility of having pure exposure.

Next step in the development of biosimilars: biobetters. Here again, the supply chain is the winner.
The lucrative but complex business of Biosimilars
Biosimilars are the "generics" of the biotech drugs
Biosimilars are off-patent biotech drugs but are up to 1,000 times the size of generic small-molecule medicines and far more structurally complex due to biological and not chemical processes. Thus, they are not called generics as they are not 1-for-1 copies of the original drug.
The added complexity jacks up the price as barriers to entry in the market are sky-high: biosimilars are 40 to 400 times more expensive than generics to produce. Yet, they are sold at only a 15% to 35% discount to the branded competitor from which they are derived.
Despite the notable-but-small drop in price compared to the reference drug, Biosimilars are attracting political attention. Over the last five years in the U.S. alone, savings to the healthcare system are $10bn; no wonder legislators have a keen eye for them.
2015-2020 showed the commercial potential behind biosimilars
The biosimilar market rose an impressive ~50% CAGR between 2015 and 2020, despite only 16 reference biotech products suffering from biosimilar competition. Each reference drug is a blockbuster (>$1bn of sales per year).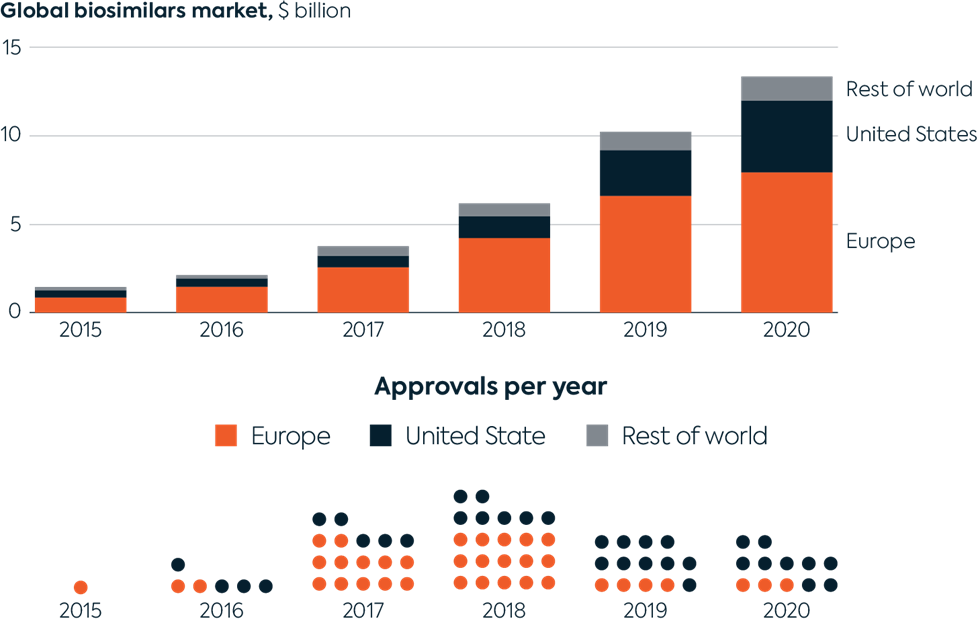 If the E.U represents more than 50% of the market in sheer numbers, the U.S is catching up fast with around 2 to 3 times more products approved per year since 2019. This situation could lead the U.S. to be the biggest market by 2030.
2022-2030 is ripe with opportunities for growth
Between now and 2030, biologics worth some $170bn will lose patent protection. Abbvie's Humira, one of the most famous, faces the launch of 6 biosimilars in the U.S. by 2023. Suddenly, the top-selling drug globally ($20bn per year) will have to share the most significant biotech market: the U.S.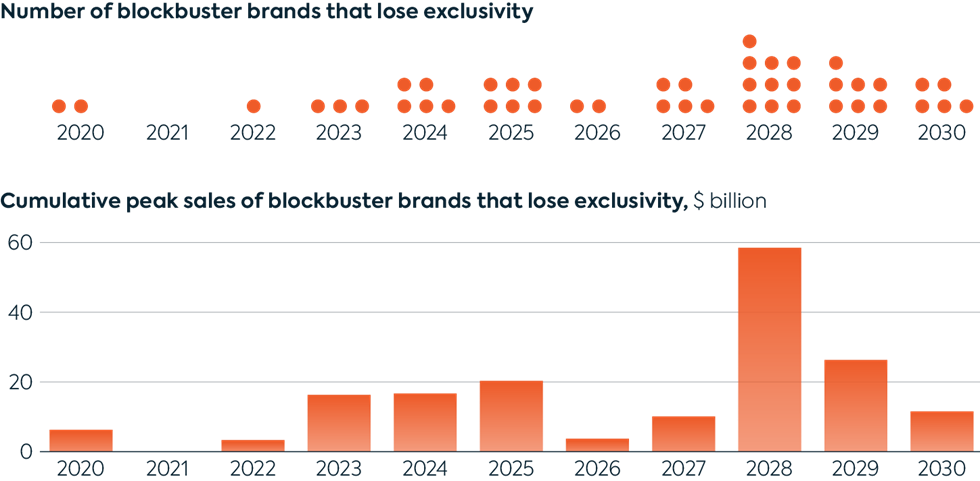 Knowledge and confidence are building up in the various studies showing equivalency between biosimilars and the reference drug. This confidence is reflected in the rising market share of biosimilars compared to their reference. Abbvie's drug Humira lost 60% of its European market share within the last three years to its biosimilars. With a good commercial team and execution, some biosimilars take less than a year to overtake the reference branded drug.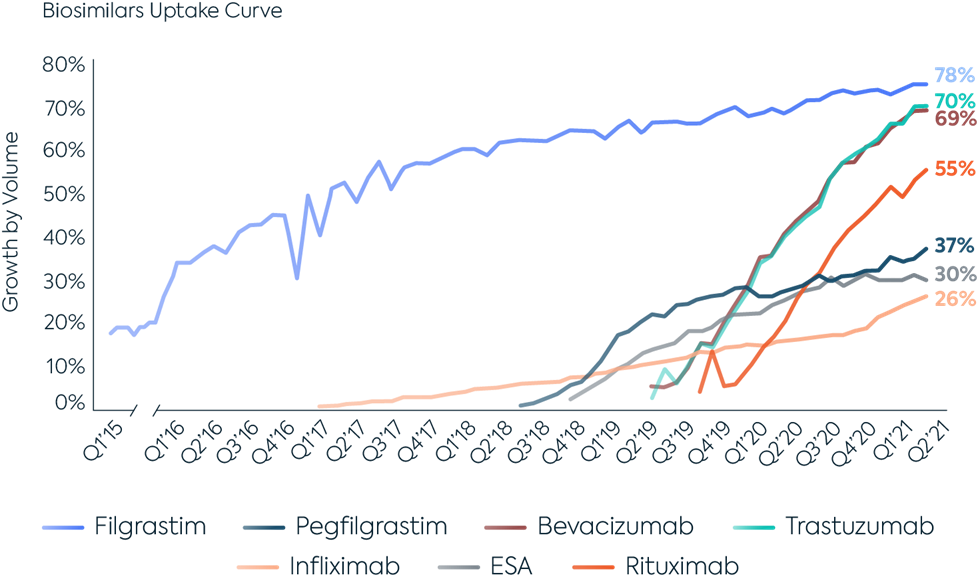 Biosimilar is not just a biopharma business
Development and production complexity means business for raw material suppliers, biological material suppliers, manufacturing equipment suppliers, clinical research organizations, and the whole biotech supply chain. On average, ~60% of the development process and manufacturing is outsourced.
The budget to bring a biosimilar from concept to marketable is 4 to 5 times lower than a new drug; it still means $200 to $500mn per biosimilar. But for some reference drugs, there are over 10 to 20 biosimilars in the pipeline worldwide. Therefore, all the biosimilar developments for one reference drug mean a market in the ballpark of $3 to $7bn for outsourcing suppliers.
Now that almost 40 blockbusters will lose patent protection in years to come, even with only five biosimilars per reference being developed, it would mean that at least $900bn will flow into the development of biosimilars captured by the supply chain.
Biosimilars impact the worldwide health economy
A report from the White House Council mentions that Pharma Benefit Managers (PBMs), despite having been created as a cost-saving mechanism for payers, do not cover biosimilars well, which would be the primary driver of cost savings for prescription drugs. As a reference, the first biosimilar approved in the U.S. was in 2014. The main saving was achieved in the out-of-pocket cost for patients and the lower cost of hospital purchases overall.
Generics became well known for significant discrepancies, with some health plans and PBMs only covering the brand name version. The most prominent example is Janssen's metastatic prostate cancer drug Zytiga: it costs $10,000 as a brand name drug, and its generic version is priced at $450. Nevertheless, the case for biosimilar could be trickier.
Drugmakers provide PBMs hefty rebates (sometimes up to 50%) for biologics based on sold volumes. The scenario in which 50% of patients take the branded drug and 50% take the biosimilar at a lower price may jeopardize the negotiated rebate. Therefore, it could end up costing the PBM. This implies that biosimilars will have to be priced at a discount that would be enough to offset the rebate losses.
Pharmas, on the other hand, have several tricks up their sleeves to avoid a loss of volume in sales. The first one is to produce themselves a biosimilar, the route taken by Amgen and Pfizer. Another, more controversial path is the "pay-for-delay settlement," where a brand-name drug pays off its generic competition to abandon patent litigation and delay market entry. The third is a patent-related strategy that constantly introduces minor changes to renew and prolong patent licensing.
Since the beginning of the year, both PBMs and delaying technics from the biopharma have been under scrutiny as they influence drug pricing. We expect more transparency will be asked in the coming years by the FDA and the other government agencies to curb healthcare spending.
The E.U. is reviewing its clinical trial processes and improving substitution programs
The E.U. created the first biosimilar-specific approval pathway in 2005 and subsequently approved the first biosimilar somatropin, a growth hormone, in 2006. This 5-year jump-start is why the biosimilar market is more significant in Europe.
Of course, biosimilars need to go through clinical trials to evaluate their safety and efficacy. Starting January 2023, new guidelines for clinical trials in the E.U. should help alleviate some of the extra-length the trials suffer from. The changes should result in a more efficient clinical trial submission and assessment process, given the implementation of a single dossier and single submission for all member states; harmonized authorization; flexible risk-based rules; and electronic document submission.
If faster clinical trials mean more rapid time to market, penetration of the market is dictated by the substitution programs. Despite the lack of substitution recommendations at the European drug agency level, countries have quickly enabled pharmacists and doctors to substitute reference drugs with their generic/biosimilars. An effective policy that resulted in over $6.5bn in savings for the healthcare system in 2020 alone.
We expect more guidance on substitution, which should translate into more savings in Europe, especially with the aging population being the primary patient group for biologics.
RoW: Biosimilars or how to kickstart a biotech industry anywhere
Biosimilar development, for numerous countries, is a way to step into the biologics production industry with lower risk and lower costs. The IP is already there, and clinical trials cost less than a new drug. As a result, biosimilar development is being witnessed virtually everywhere globally.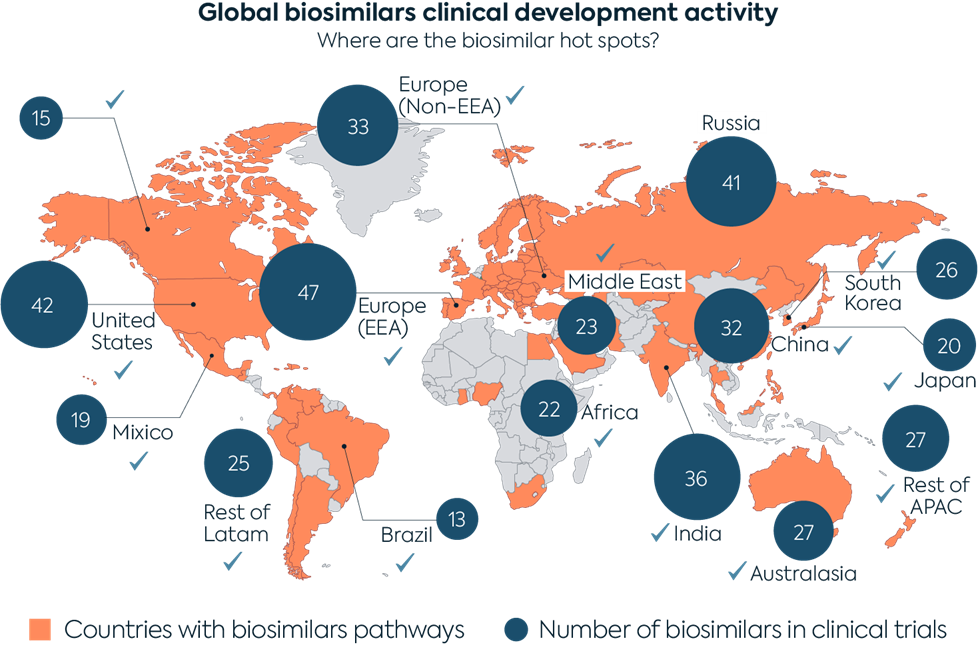 China and India are pushing hard as their needs for targeted therapies increase massively. In 2021, China and India had the most significant shares in worldwide biosimilar approvals, respectively, 16% and 20%, despite being around a decade late to the game compared to Europe. Regulations around biosimilars were introduced in 2015 and 2016 in China and India, compared to 2005 for Europe and 2010 for the U.S.
Except for Australia, Russia, and the U.S., no other countries have ruled on the automatic substitution for Biosimilars. In other words, there is plenty of space for biosimilars to grab market share almost everywhere.
The expertise China and India have gathered from U.S. companies outsourcing biologics manufacturing to local Contract Development Manufacturing Organizations is channeled into producing biosimilars. The Indian company Biocon, after getting a strategic partnership with Mylan and learning the ropes, was able to enter both the U.S. and E.U. biosimilar market and is now among the Top10 biosimilar player globally.
It means that those who started as service providers in the supply chain may become biopharma themselves.
The future of the biosimilar market is especially bright for suppliers
Generic vs. biosimilar: same essence, different perspectives
Margin compression is every company's nightmare. Pharma and biotech companies generated among the most robust margins of all S&P 500 industries, respectively 30% and 38%; semi-conductors are around 32%, software 31%, and interactive media 26%. The rhetoric around drug pricing and margin compression keeps investors under pressure.
The generic industry has already shown that profits can be made even if drug prices are slashed by 90%. The generic market reached $390bn in 2020. Currently, the biosimilar market maximum price cut is around 30%, leaving ample room for maneuver.
Even factoring for a lower price discount, the biosimilar market is expected to show an appealing 23% CAGR until 2030 compared to 5% for the generics. One reason is that production capacity is a crucial limiting factor for biosimilars, whereas the chemical nature of generics makes them much simpler to manufacture. So, prices will drop slower as few companies can produce them at scale.
With a slower price drop, suppliers of biosimilar producers are able to maintain pricing power longer.
A not-so-easy industry to play for investors
Despite being one of the fastest-growing segments in healthcare, the biosimilar industry is a mixed bag of companies. Among the top10 companies involved in biosimilars, none focuses only on biosimilar development. The three closest to a pure-play status are mixed between "generics and biosimilars" (Teva, Biocon, Celltrion).
Two deals equating to around 1/3 of the whole biosimilar market happened this year alone. Yet, the lack of pure players lowers the possibility of having pure exposure to the sector.
Biocon bought Viatris for $3.3bn. The transaction notably gives Biocon complete control of Semglee, the biosimilar referencing Sanofi's blockbuster insulin "Lantus" and the first FDA-approved interchangeable biosimilar. Eli Lilly, Novo Nordisk, and Sanofi, who control 95% of the $28bn insulin market, now face a new serious competitor.
Interestingly Biogen, in dire need of cash, agreed to sell to Samsung Biologics, the biotech contract manufacturing arm of Samsung, their stake in their biosimilar-focused Samsung Bioepis joint venture for up to $2.3bn.
Considering that the overall market is currently estimated at $15bn in total, these deal numbers show the management's level of confidence in coming growth.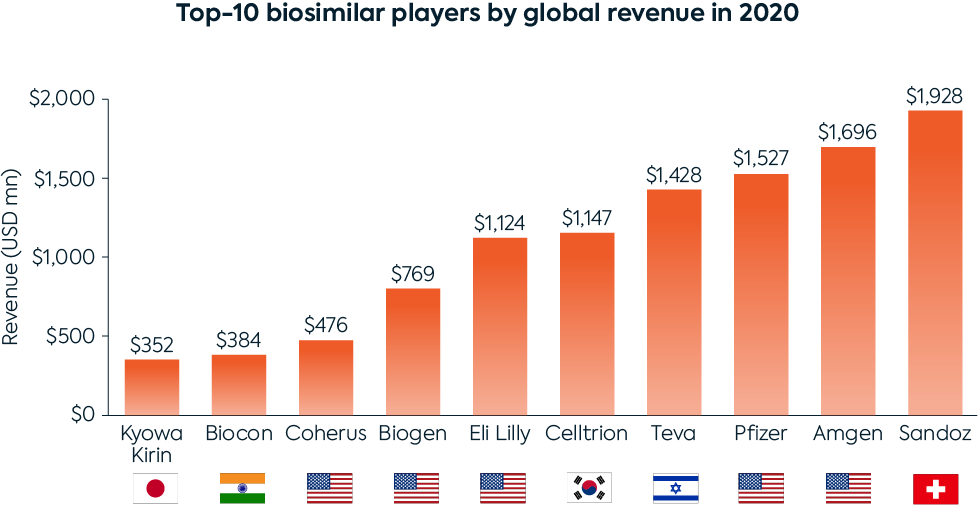 The next step for the industry and supplier is into biobetter
If biosimilars must have no clinically meaningful differences in terms of safety and effectiveness from their reference product, a "biobetter" can be thought of as an improved version of an existing biological product. It means starting from a known therapeutic agent and engineering a better version. A feat possible thanks to the advance in synthetic and programmable biology.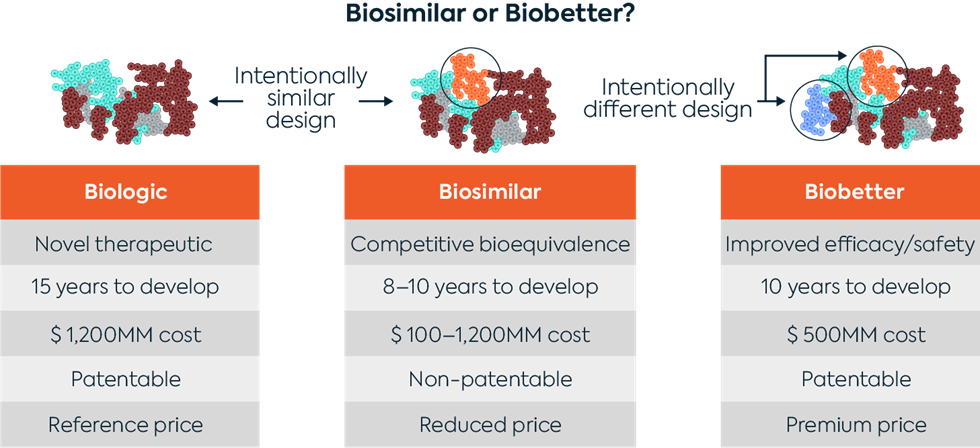 This is not a theoretical concept. For example, the Genentech monoclonal antibody Gazyva is considered a biobetter of Biogen's Rituxan. Both drugs target the same mechanism, but in several head-to-head comparisons of Gazyva and Rituxan, Gazyva showed superior efficacy.
Biosimilar manufacturers are best positioned to tweak the biologics they are producing. On top of that, a biobetter is a new drug and thus patentable, unlike a biosimilar. But as the cost to develop one is not negligible, only the biggest biosimilar manufacturers have the means to enter the race.
Only a twentieth of the U.S. biologics market is considered biobetters, or around ~$27bn. But the positive feedback loop will provide even more business for the biotech supply chain: Each future biobetter is a future biosimilar. Consequently, the $500-$900bn market for the biosimilar development supply chain is a low estimate.
Catalysts
Off-patenting of Blockbusters. 2022-2030 is filled with >40 blockbuster patent expiries.

Regulations favoring biosimilars. If countries and drug agencies push for automatic substitution, it will help boost biosimilars' market share.

Deals and M&A in the space. As always in pharma, deals and M&A are a vector of growth.
Risks
Anticompetitive practices continue. Biopharma may find new ways to "evergreen" their patent, preventing biosimilars' entry into the market.

Impossibility to compress cost faster than margin. The technicity to produce biosimilars may hinder the possibility of compressing costs for biosimilar manufacturers without lowering margins.

Failed clinical trials and drug equivalency. A biosimilar is still an untested drug at first, so a failure in clinical trials is still possible.
Companies mentioned in this article
Back to all articles
Explore:
Disclaimer
This report has been produced by the organizational unit responsible for investment research (Research unit) of atonra Partners and sent to you by the company sales representatives.
As an internationally active company, atonra Partners SA may be subject to a number of provisions in drawing up and distributing its investment research documents. These regulations include the Directives on the Independence of Financial Research issued by the Swiss Bankers Association. Although atonra Partners SA believes that the information provided in this document is based on reliable sources, it cannot assume responsibility for the quality, correctness, timeliness or completeness of the information contained in this report.
The information contained in these publications is exclusively intended for a client base consisting of professionals or qualified investors. It is sent to you by way of information and cannot be divulged to a third party without the prior consent of atonra Partners. While all reasonable effort has been made to ensure that the information contained is not untrue or misleading at the time of publication, no representation is made as to its accuracy or completeness and it should not be relied upon as such.
Past performance is not indicative or a guarantee of future results. Investment losses may occur, and investors could lose some or all of their investment. Any indices cited herein are provided only as examples of general market performance and no index is directly comparable to the past or future performance of the Certificate.
It should not be assumed that the Certificate will invest in any specific securities that comprise any index, nor should it be understood to mean that there is a correlation between the Certificate's returns and any index returns.
Any material provided to you is intended only for discussion purposes and is not intended as an offer or solicitation with respect to the purchase or sale of any security and should not be relied upon by you in evaluating the merits of investing inany securities.
Contact