Outlook 2023 - Bionics: No shortage of opportunities
The threat of a recession is in the offing, but staffing and supply chain shortages are stabilizing. We see the counter-cyclical medical device industry as an appealing area for targeting profitable, fast-growing opportunities. 2023 is likely to be an eventful, catalyst-rich year for our portfolio.
Bottom line
We are leaving another turbulent year behind us, dominated by geopolitical conflict, supply chain disruption, monetary policy reversal, and surging inflation. No subsector has been spared in the medical devices industry, and fallers outweighed risers.
MedTech companies are still suffering the ripple effects of COVID. The demand for better care has not faded, but the current shortage of healthcare workers is holding back the medical devices industry.
In our view, the temporary setback doesn't disrupt the long-term thesis. The theme still benefits from powerful structural growth drivers, and the recent underperformance might represent an attractive buying opportunity for companies with unmatched competitive positions in untapped end markets. However, the uncertain economic outlook requires investors to be more selective. Misquoting Darwin, business models that best fit their environment have the best chance of survival.
Table of contents
Portfolio Snapshot
Bionics Overview
Mini-Invasive Treatments & Surgery
Artificial Organs
Equipment & Devices
Monitoring Devices
Liquid Biopsy
Sequencing
In Vitro Diagnostics
Medical Imaging
Telemedicine
Care Management Solutions
Healthcare 3D Printing
Transplant Diagnostics
Genetic Testing
A glance in the rearview mirror
Catalysts/Risks
Portfolio Snapshot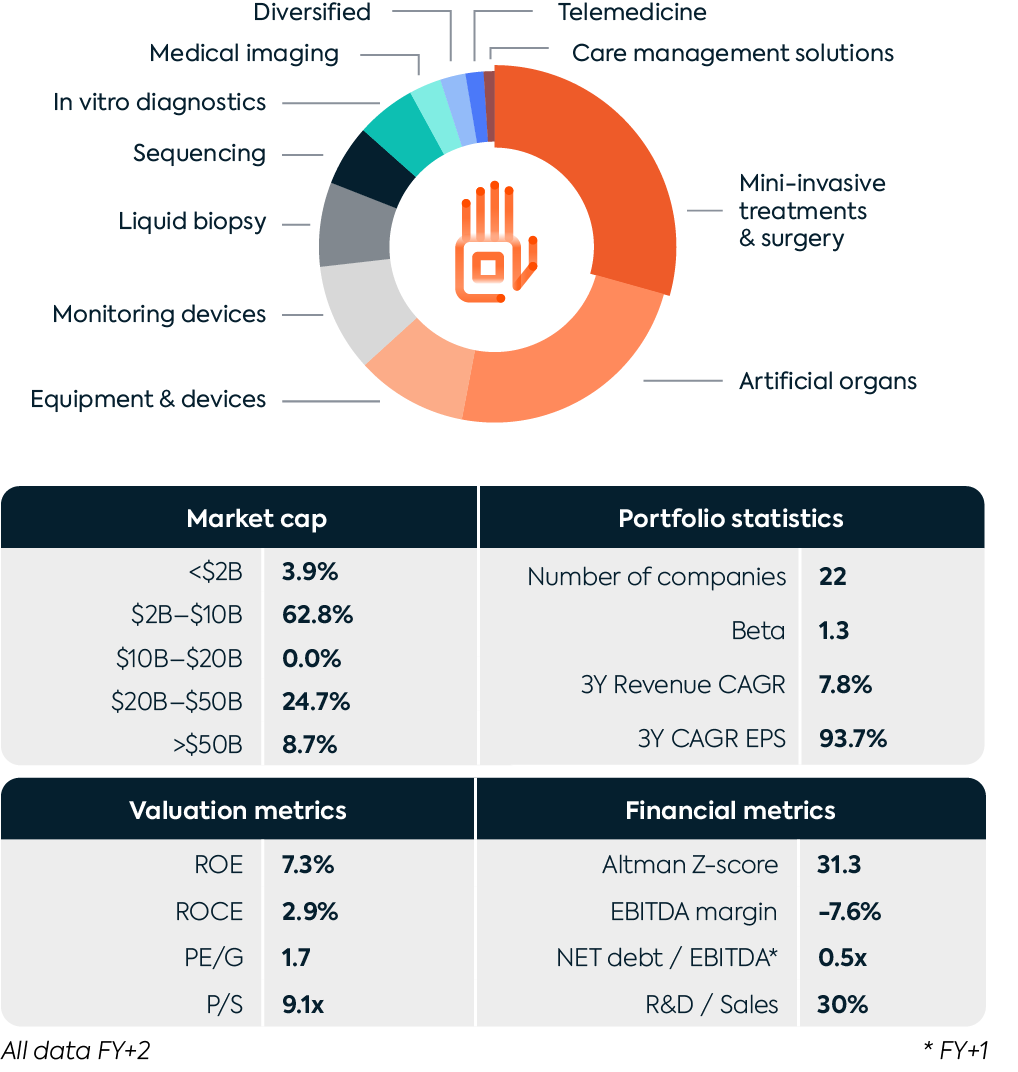 Overview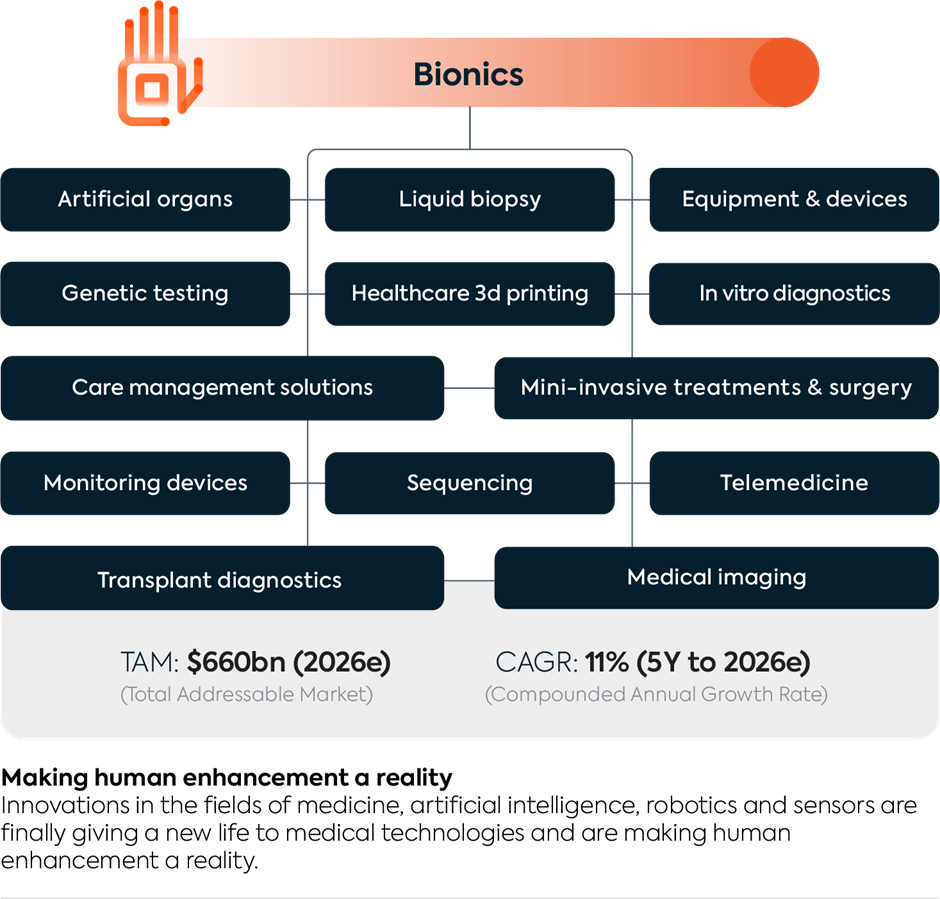 A blessing in disguise
2022, a year for nothing?
2022 was indeed a challenging year. Innovative small and midcaps were beaten the most as investors shied away from unprofitable companies, while larger players were heavily hit by currency effects and supply-chain burdens. Overall, the expected catalysts did not necessarily materialize. We expected a more substantial surgical volume rebound this year, but the post-pandemic burnout of medical staff curbed how fast companies could work through the backlog of elective procedures. We also saw the Cures 2.0 Act as a meaningful catalyst and were quite optimistic regarding its approval due to the strong bipartisan support; alas, the bill remains under review to this day, one year after its introduction.
Not so fast, 'tis but merely a delay
Despite the market gloom, companies have not taken a break from innovation. This year the industry has been a hotbed of multiple breakthroughs, such as the world-first clinical trial for lab-grown blood, the entire human genome reading through long-read sequencing, or the first tubeless artificial pancreas. Companies' pipelines have never been that strong, with groundbreaking innovations to hit the market as soon as next year. The procedural backlog we pointed to as a positive driver for future revenue growth remains unaddressed, the question only being about when, rather than if, it will kick off. And the Cures 2.0 bill could be approved at any time now that the U.S. political horizon is less cluttered.
Ready to fend off any recession
The MedTech industry has traditionally fared better than most other industries in periods of recession, thanks to the resilience of the demand for medical devices, although this does not mean device makers are entirely immune to potential recessionary pressures. Opportunities are substantial, especially as investors are still willing to pay a premium for players that manage to reinvigorate their revenue growth and strengthen their bottom-line fundamentals. The most recent challenges are here to remind us that we cannot live in a world where medical innovation is not a priority. Medical breakthroughs are needed more than ever to deliver life-changing solutions to patients and drive positive outcomes across the healthcare system. The latest earnings season does not say the contrary, showing much better dynamics in terms of supply chain and medical procedures, leading to a beginning of recovery and giving more reasons to be optimistic for 2023. This year the market gloom overshadowed the MedTech industry, but better days might well be just around the corner.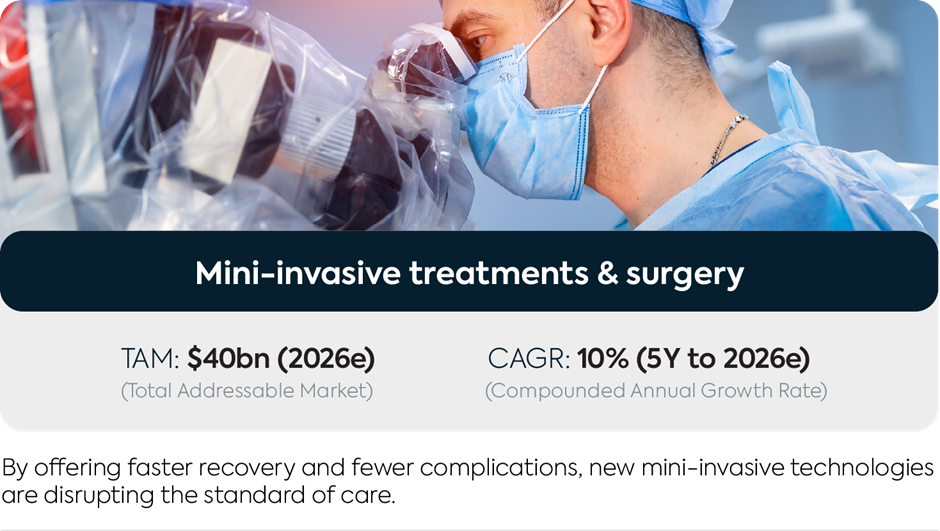 A break in the 2022 clouds
A safe port in the storm
The mini-invasive treatment & surgery has been a safe port in the storm for our portfolio, and we believe this won't change any time soon. Hospitals keep betting on technologies that alleviate the pressures on medical staff by reducing the number of clinical interventions and the rate of patient readmissions. We favor more resilient indications (such as cardiovascular, cancer, and diabetes) and players in niche markets that benefit from established reimbursement pathways and no foreseeable competition. The extraordinary adoption of Shockwave Medical's Intravascular Lithotripsy Therapy is the perfect example of how technologies with unmatched product offerings and little or no competition can thrive in any macro environment. This year the company continued to handily beat expectations despite the market doom.
Is hospital spending a real concern?
Investors are still wondering whether hospitals will curb spending next year and whose technologies will be affected. This year, the demand for devices that required no upfront payment and systems in the early adoption phase with established reimbursement proved resilient. At the same time, technologies at later stages of penetration suffered the most. Next year the script could flip for companies with near-term catalysts and significant recurring revenues benefitting from the recovery of elective procedures.
Stepping into the pharma shoes
Using drugs to treat diseases always comes with a cost of side effects. Medical devices have the potential to taper off the use of traditional pharmaceutical treatments, and the future of this trend is now in the FDA's hands. Novocure is finally set to announce the results of its long-awaited phase 3 LUNAR study, testing the effectiveness of Tumor Treating Field. This technology can be used as a standalone or in combination with drugs to slow the progression of stage 4 non-small cell lung cancer (NSCLC). The company has a rich late-stage pipeline with a market opportunity 20-fold bigger than the currently approved indications. A shift in the treatment paradigm from drugs to medical devices is in the making. Following Johnson and Johnson's example, which recently acquired Abiomed for $17bn, large groups might need to buy their way out of trouble by acquiring very well-targeted opportunities in this space.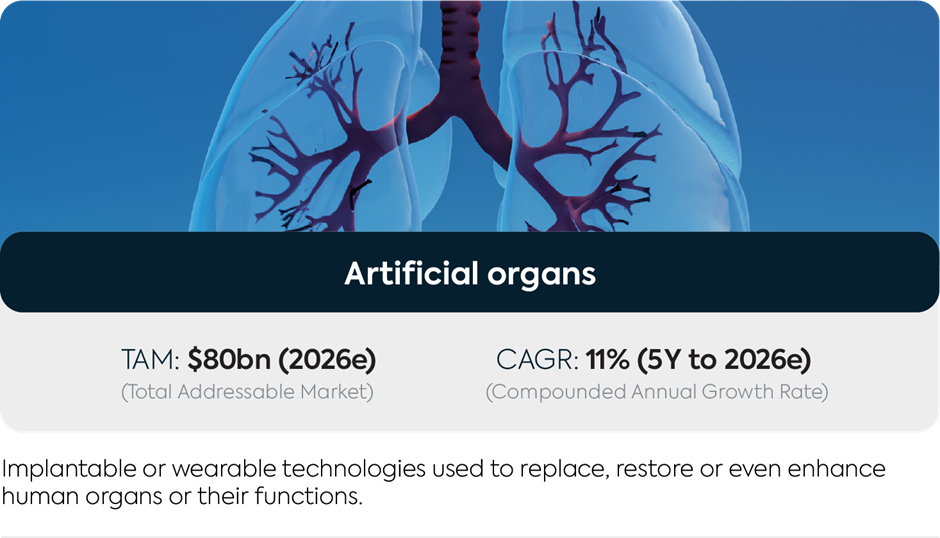 Sector's peaks and tweaks
A no-brainer sector to be exposed to
Artificial organs have strong fundamentals in place. The sector benefits from established reimbursement and the ongoing shift from hospitals to ambulatory settings, less affected by staffing shortages. Axonics and Inspire Medical kept beating expectations and raising their guidance as sales of neuromodulation devices have grown almost undisturbed. Inspire Medical plans to expand its market beyond its current target population to address more severe cases, obese patients, and children with Down Syndrome, which could represent a potential increase of around 20% from today's opportunity.
Patients are giving up control to automation
The first tubeless artificial pancreas, Omnipod 5, developed by Insulet for people with Type 1 diabetes, has finally reached the market and is already seeing unprecedented demand in the U.S. Its pharmacy access and low upfront payment make the product a threatening contender to Tandem's t-slim, the current market leader, especially in the face of a recession.
Both Insulet and Tandem have been gaining at Medtronic's expense after the FDA warning letter prevented the company from launching its latest product. Medtronic is now geared up to launch its next-generation artificial pancreas, 780G, in 2023, and it's determined to recapture its lost market share. Meanwhile, new-generation devices are racing to catch up. Beta Bionics is developing a completely automatic dual-hormone artificial pancreas that the company believes will appeal to people on injection therapy.
Artificial organs are becoming alive
For the first time, lab-grown blood is being tested on humans. The clinical trial is conducted by researchers in Bristol, Cambridge, and London, as well as NHS Blood and Transplant. The ultimate goal is to manufacture ultra-rare blood groups that are hard to get hold of.
Meanwhile, a 2021 IPO, Miromatrix Medical, is developing bioengineered organ transplant technologies using pig organs. The company has recently filed an IND to initiate the Phase 1 clinical trial. As we wrote at the beginning of the year, xenotransplantation may be the nearest-term solution to end the organ shortage.
Despite the market gloom, early-stage innovators keep progressing.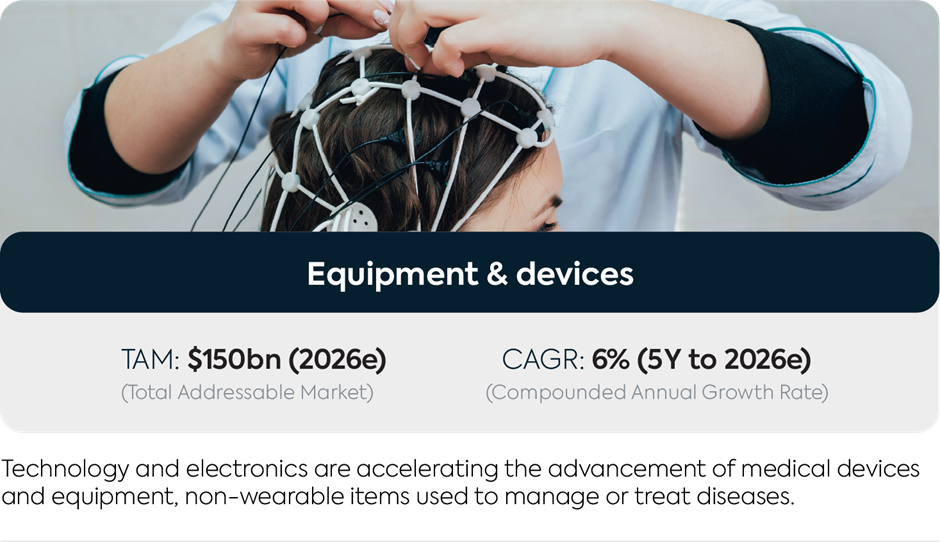 A safe haven, if you know where to hide
Leaving the shortage behind
Hospital hesitancy around CapEx spending has been a key concern for investors. The shortage of medical staff impacting the demand environment has added pressure to the sector. We, therefore, favor life-saving equipment, technologies that offer increased automation, and disruptive solutions that enable the long-standing shift toward home care. Companies in this space are exiting 2022 with a healthy backlog position, which should set them up well entering 2023.
Dialysis at home scores a coup
Despite the dire economic outlook, some innovations are starting to bear their fruits as the economic and operational benefits are finally being recognized. Outset Medical and Transmedics are uniquely positioned to withstand current challenges. Effective January 1, Tablo (Outset Medical's hemodialysis system for at-home care) stands to benefit from a Centers for Medicare and Medicaid Services (CMS) payment program called Tiffany, explicitly implemented to encourage providers to adopt new renal technology. Tablo is the only dialysis technology to benefit from it. Tiffany provides additional payment of $23 to $25 per treatment above the baseline reimbursement ($250). This policy could represent a significant tailwind for the company.
Organ preservation systems set new ambitions
In the U.S., more than 106k people are waiting for a life-saving organ, but less than 40% are lucky enough to receive the needed transplant. This year's Transmedics remarkable performance stands out from the MedTech crowd as the company plays a significant role in helping fill this gap. Transmedics offers hospitals a breakthrough system (and related logistics) that preserves the organs outside the body for a longer time.
With a significantly underpenetrated $7bn addressable market in expansion and no foreseeable competition, the company has been able to beat market expectations every quarter, hands down, driven by a substantial acceleration of heart and liver systems' adoption. After re-establishing growth in the lung division, the company plans, by the end of next year, to gun for its next big opportunity: kidneys, which represent 87% of the organs on the National waiting list.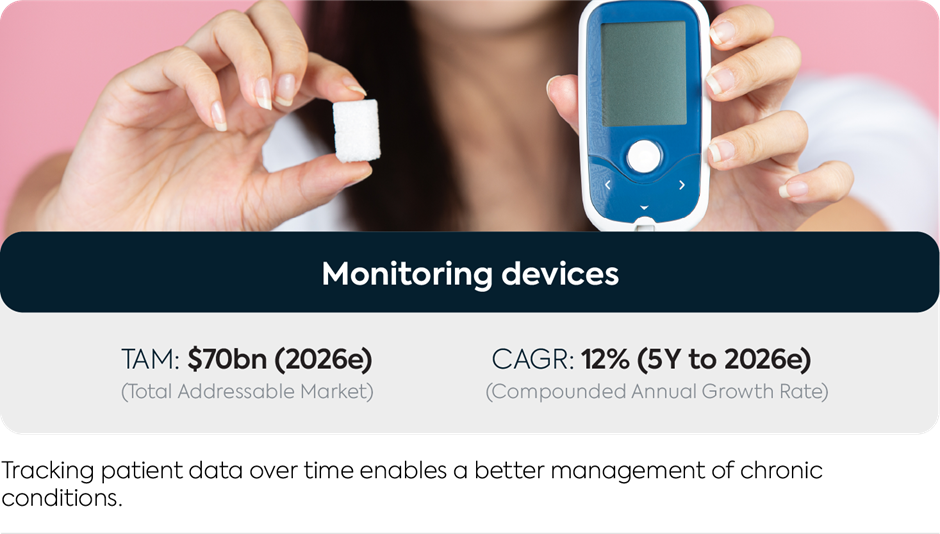 Growth indicators are flashing green
A trend that shows no signs of a slowdown
Today, 6 in 10 Americans live with at least one chronic disease, a condition that derives from modifiable factors such as smoking, alcohol, lifestyle, and nutrition. Wearables and monitoring devices engage people in proactive ways to modify their behavior and stay healthy. Technology offers tremendous opportunities to prevent chronic diseases. But getting care before getting sick represents a profound change in the care paradigm that requires time.
Meanwhile, the adoption of wearable devices to monitor sick patients is spiking. Some time ago, people refusing to "wear their disease" also refused to wear any device. Since then, companies have consistently invested in TV ad campaigns with musicians and actors to elevate awareness and eliminate stigmas. Devices are now becoming part of everyday life.
Reimbursement is beating the drum on innovation
This year monitoring devices, especially those addressing the consumer directly, had a hard time. This situation reversed for Continuous Glucose Monitoring (CGM) systems when, in October, the CMS issued a proposed local coverage determination to expand their use into the ~4mn U.S. basal-only Type 2 diabetes. If finalized by next year, the decision will double the current market opportunity of this technology. This year, another innovation, the first and only FDA-approved implantable CGM, developed by Senseonics, received another favorable decision from the CMS for coverage expansion, which will become effective by early 2023.
We believe that makers of devices that patients pay for themselves will likely continue to suffer in the months to come, but those launching next-generation products that manage to get insurance on board are poised to shine.
The ongoing battle of CGM titans
In the U.S., CGM devices are used by 30% of patients with Type 1 diabetes, while the other patients use regular fingerstick blood tests to measure sugar levels.
To maintain their competitive positions, companies must constantly innovate to remain at the top. Market leaders are launching new CGM systems to reach deeper penetration in Type 1 diabetes and are now eyeing a new market opportunity in Type 2 diabetes. Dexcom is well-positioned ahead of its G7 launch in the U.S., planned for early 2023 (the device is already CE-marked). Dexcom's biggest rival, Abbott, has already launched its Libre 3 in Europe and the U.S., but so far, users seem to prefer the former's technology.
The newly launched artificial pancreas developed by insulin pump makers is currently recording new users and relies on CGMs to function, another strong tailwind for CGM makers.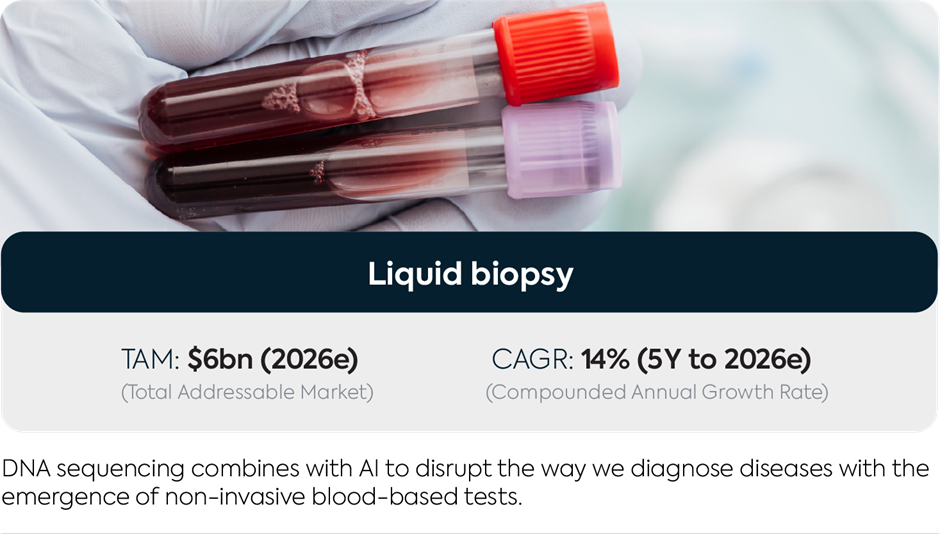 From niche to necessity
Nothing comparable to a Theranos-like fraud
2022 has been nothing short of disastrous for this sector. After the 2020 boom, the upward trend reversed when investors started to pivot from growth to profitable growth. Once a sector holding up on hope and hype, nothing could be further from the truth today, as players learned it the hard way. The sector will therefore need to step up its game and deliver concrete applications. And precisely, thanks to an accuracy boosted by multi-omic approaches, the technology has already proven its worth in niche applications within new drug discovery and in late-stage cancer detection. The stage is set for moving towards larger-scale applications.
A seismic change in the colorectal screening market
We believe the move into early cancer detection and colorectal screening will be transformational. Cancer is the second leading cause of death in the U.S., and its early detection could significantly improve the situation. Current guidelines by the Centers for Disease Control and Prevention (CDC) recommend screening only for less than 30% of cancer types, but a recent update has added genome analysis to guide treatment decisions in breast and prostate cancer. A pending guideline endorsement for colorectal cancer by year-end (or 1H23) would be a further tailwind for the industry and represent a serious opportunity, knowing that there is a backlog of 60mn colonoscopy procedures in the U.S. only. The trend will also be buoyed by the recent increase in Medicare coverage.
The age of precision medicine is inevitable
We believe liquid biopsy tests will initially significantly increase colorectal screening adoption in unscreened populations (adherence to stool-based approaches is around 60%). As accuracy improves, the approach will become the standard of care. In the long term, liquid biopsy tests will go beyond colorectal cancer to target other types of cancer and, finally, all of them together. But for now, multi-cancer screening tests, like those developed by GRAIL (acquired by Illumina) and Thrive Earlier (acquired by Exact Sciences), are only a blurred vision of the future. We, therefore, favor leading players offering FDA-approved solutions supported by robust clinical data and covering the entire continuum of care, from screening to early liquid biopsy tests to tissue diagnostic options.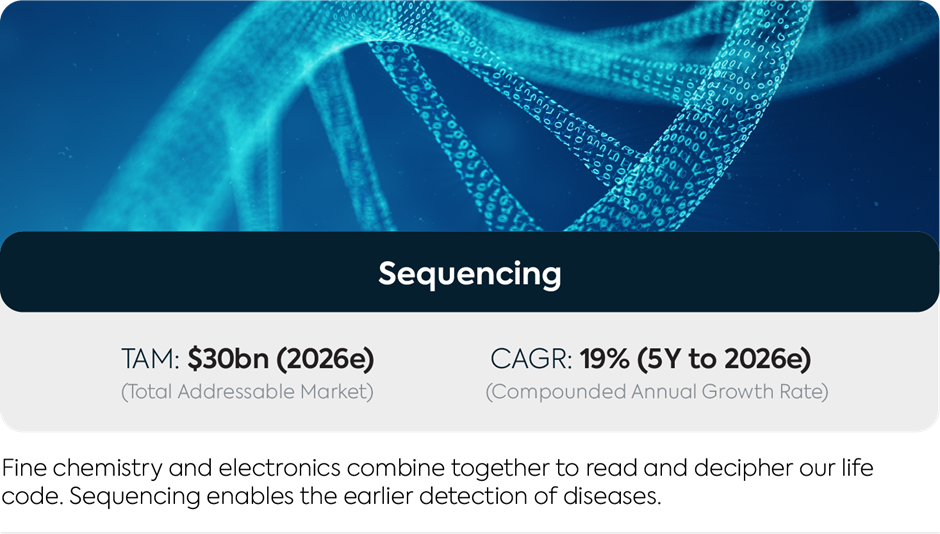 Are we close to witnessing the overthrow of Illumina's kingdom?
A step close to the long-promised $100 genome
This year the sector was affected by a reduction in academic and lab spending. Nevertheless, product development showed strong progression. Illumina announced it could read a person's genome for as little as $200 for high volumes of DNA samples. The new lines of sequencing machines, the NovaSeq X Series launched this year, are 2.5 times faster than previous generation models and can read more than 20k genomes per year.
Illumina's short-read sequencing technology is advancing at a fast pace, but someone plans to overtake its leadership …
Pacific Biosciences - on its way to steal Illumina's crown
Pacific Bioscience recently unveiled technologies that could prove a real contender for Illumina's machines. The company will start the shipping of its new short-read product, called Onso, at the beginning of next year for a price of $259k (vs. $335k for Illumina's NextGen 2000). How throughput and turnaround times compare with Illumina's machines remains a big question mark, but the answer will be crucial for Onso success.
Mirror, mirror on the wall, who is the best of them all?
Long-read sequencing has again proven vital in helping advance medical research. In June of this year, the long-read sequencing technology finally revealed the entire human genome, filling in the 8% that was still missing. This advancement marks one of the most critical milestones in the sequencing space since the first-draft genome was reported in 2000. Pacific Bioscience' machines dominate the long read sequencing market, but Illumina has already prepared its counterattack and plans to launch next year its long read products, formerly known as Infinity, and priced at $800. So far, Infinity seems to be less accurate than Pacific Bioscience's machines.
New companies are also racing to catch up (e.g., Ultima Genomics, Singular Genomics Systems, Element Biosciences), claiming to have machines with superior features compared to Illumina's systems.
2023 will be the year of reckoning for both short and long-read sequencers.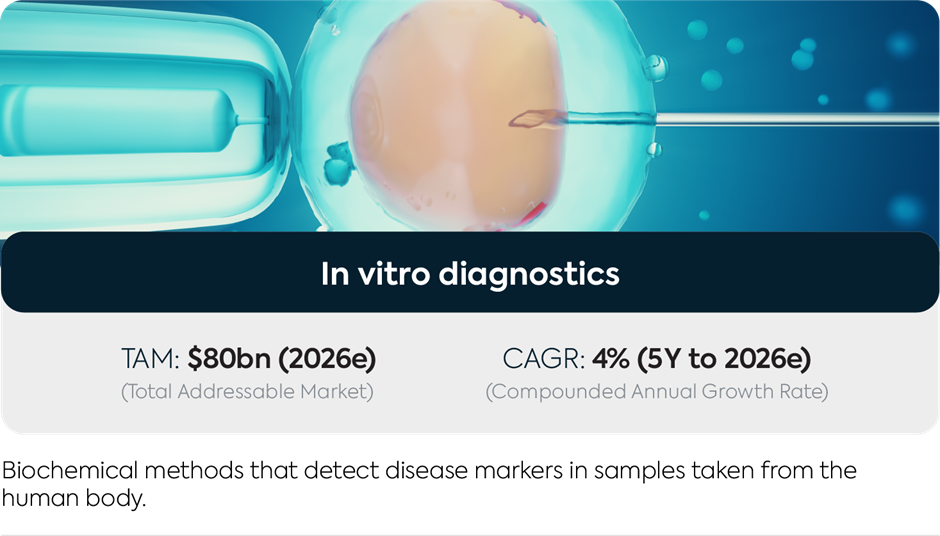 The sector's swings and roundabouts
Covid-19 tests overshadowed the sector
This year, some clouds have overshadowed the sector as most companies have seen a drastic drop in Covid-19 sales. Some leaders have managed to surpass expectations again, but those sunny days are now in the past. Despite the decreasing revenue from Covid-19, in vitro diagnostic (IVD) tests remain an essential tool used in routine patient management and have many indications beyond Covid-19. After the passing rain, we believe the sector's growth will return to more moderate, but also more stable, growth.
New regulations: a double-edged sword
In vitro diagnostic companies are the leading developers of laboratory-developed tests (LDTs), a type of in vitro diagnostic test designed, manufactured, and used within a single laboratory.
Previously exempted from clearance or approval requirements, LDTs are now facing a significant overhaul. The VALID Act has been introduced to empower the FDA to oversight diagnostics and avoid Theranos-like situations. If enacted, this legislation will require companies to comply with many more requirements, but it will also reduce competition.
Home is becoming the new frontline of healthcare
In parallel with the Covid-19 test surge, the volume of rapid home tests has also spiked. Companies in this space are betting big on home tests. They believe this new diagnostic trend can have a deflationary impact on healthcare. It requires fewer people to administer and can facilitate early detection of chronic diseases that are much more expensive to treat when diagnosed too late. Covid-19 forced people to familiarize themselves with these tests, which has resulted in more acceptance and increased usage.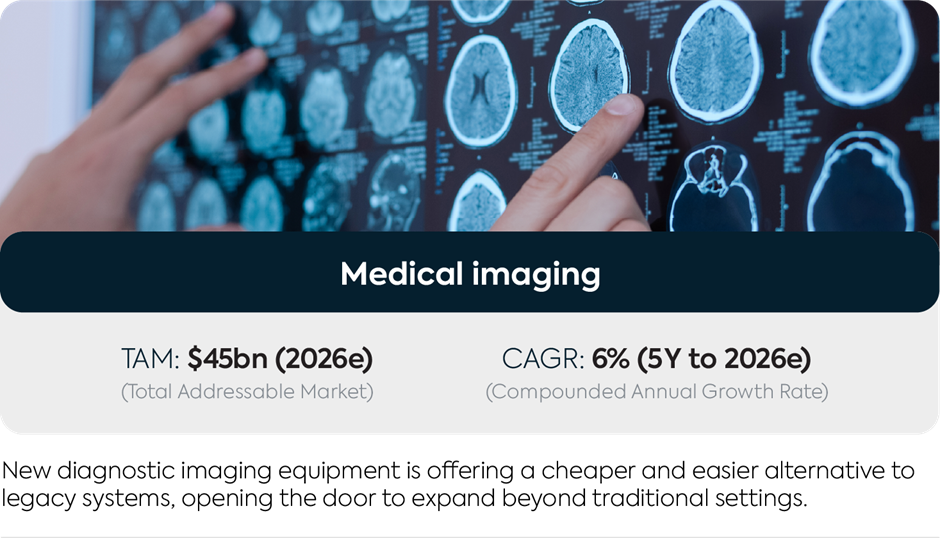 The snowball effect of missed diagnosis
The call for supply chain resilience has been answered
The sector relies heavily on electronic components, and this year companies' bottom line has been hit by surging cost inflation driven by supply shocks. A call for supply chain resilience has finally been answered.
The medical imaging sector is a long-term beneficiary of the recent $280bn bill introduced to create more resilient U.S. supply chains. The bill would address $52bn to semiconductor manufacturing, while $2bn is directed specifically to so-called legacy chips used in medical devices. This provision has the potential to mitigate inflation down the road.   
A sector pulled through by the Chinese stock rally
Including Chinese players, the universe was the only bright spot of the MedTech universe. Few companies managed to grow their valuations. Among them, Lantheus, whose shares have more than doubled in 2022 on the successful launch of the prostate cancer diagnostic Pylarify, and Chinese players (e.g., United Imaging), which lead the imaging sector.
Setting aside Chinese medical imaging stocks, the aftershocks of Covid-19 are still being felt in most companies' fundamentals. Beyond the supply chain bottlenecks, market leaders also reported a tight staffing situation, with half of the radiologists currently suffering from burnout.
The missing link to the healthcare chain
With no diagnosis, there is no treatment. The sector slowdown has been putting the brakes on the entire care delivery, resulting in delays in other medical procedures. This year, the recovery in iodinated contrast agents, essential for cardiovascular imaging, helped drive cardiovascular volumes up but is still causing a significant drop in transcatheter aortic valve replacement (TAVR) procedures. In some sectors, the effect of a missed diagnosis will be felt for longer. This situation raises awareness of the essential role of diagnostics in our healthcare systems. Expanding the patient's access to it is paramount.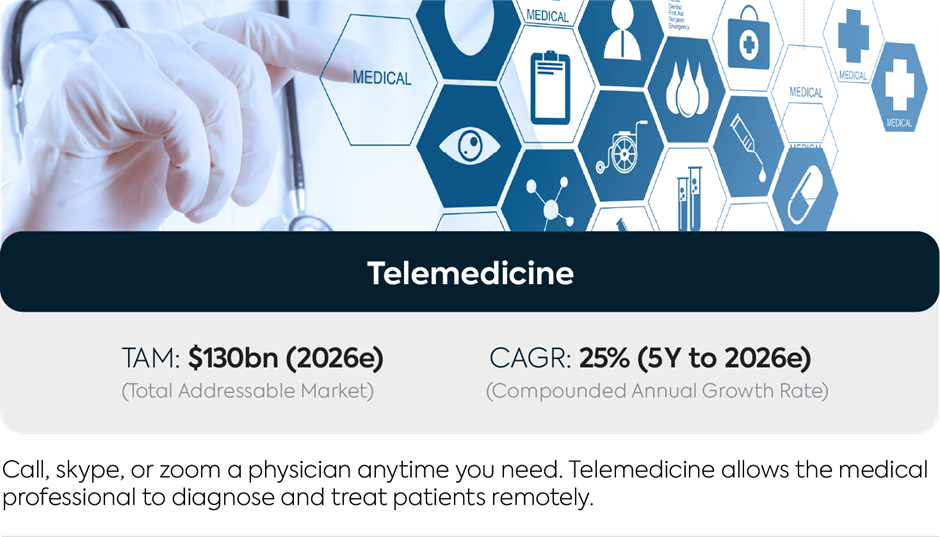 Still in a post-pandemic hangover
A new realm of care
The past two years have propelled us into a new realm of care that integrates the physical and virtual worlds. Telehealth use has remained stable this year but higher than pre-covid levels (around 5% of the total medical claims). Chronic and behavioral care are the sub-segments poised to benefit the most from this shift, as 80% to 90% of their services can go virtual.
Telemedicine benefits are not questioned. According to United Healthcare, compared to traditional care, patients can save from $130 to $2,000 per visit. Today virtual visits have become a standard inclusion in insurance programs, and most healthcare providers offer virtual care and 24/7 telehealth access. Amazon's takeover of One Medical for $3.9bn, its largest acquisition to date, is self-explanatory. Besides Amazon, no one has recently been willing to brave these choppy waters. M&A activity has recently dried up in this sector, but we believe that new buyers will emerge for companies that hold a promising future.
Uncertainty abounds for 2023
Telemedicine, a sector pervaded by extremely high expectations set by the pandemic-induced adoption boom, has fallen victim to its own success. Over the last two years, virtual care adoption has gone to the sky and back to earth. Besides, the Cures 2.0 Act, which would make telehealth flexibilities and reimbursement for providers permanent, is still under review.
As uncertainties tail off, growth normalizes, and investors start to set more realistic expectations, the sector will recover from this bad trip. Near term, there are still reasons to be cautious since recession fears are still haunting the most nascent B2C units of virtual chronic and mental health care.
We keep favoring players offering a wider menu of virtual services but maintain an underexposure to the overall sector given its poor fundamentals.
VCs are still pouring early money into the sector
Early investors have been pouring less money into the virtual care sector this year than last year's all-time-high investments (totaling $29bn), but 2022 still represents the third record year in a decade. Investments have been confined to late-stage companies (the biggest round was for Biofurmis) since the lower development spending at this stage (compared to medical devices) is seen as an advantage in the current environment, and reimbursement is less of a concern. Hospitals, which have increasingly become active in venture activity, have been ramping up investments in this area, searching for alternative sources of revenue and promising products that they could later leverage for their operations.
There is still an incredible amount of money available to be deployed (mainly raised during 2021), and the VC firms' appetite for the digital space is very much alive. The sector can be a lucrative place for companies that create breakthrough technologies & services, and we believe investors won't miss the opportunity. This will likely bring a breath of new life into the sector.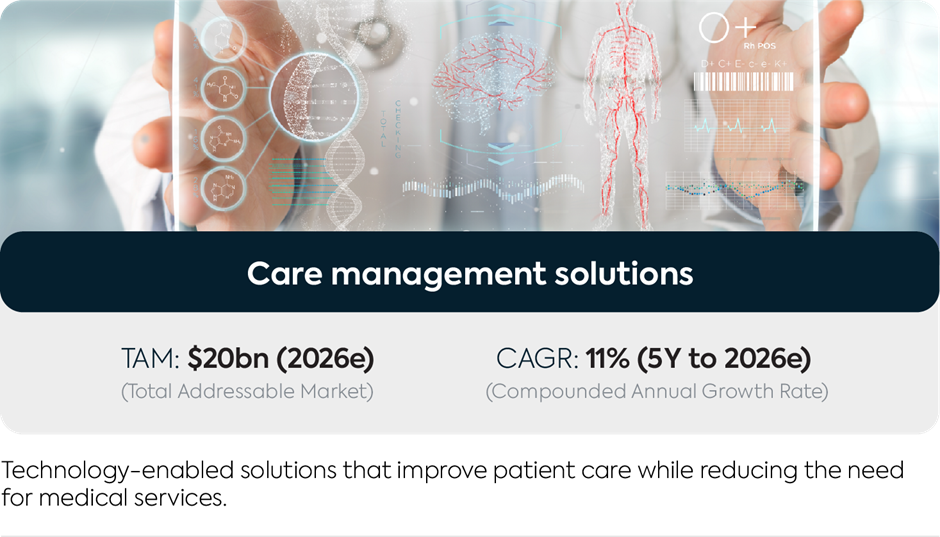 Curbing healthcare spending will be inevitable
Who is clapping now?
Before Covid-19, the WHO was already projecting a shortage of 18mn workers by 2030. The pandemic exacerbated this condition by creating a snowball effect with increasingly stressed staff, more sickness absences, and fewer resources to train new staff. These dynamics are expected to continue to fuel investments in technologies that drive productivity. Automation, technology, and revenue cycle management systems are crucial to reducing the workload, increasing staff capacity, and improving operational performance. In addition, the shortage of medical staff is forcing an unprecedented shift in care settings, with healthcare moving out from hospitals and intensive care units into patients' homes and ambulatories.
Hospitals up against a wall
The wretched state of the market also affected providers of care management solutions. Staffing shortages, tight margins, and inflationary pressures limited the capacity of healthcare systems to focus on long-term transformative investments; this year, they were merely trying to stay afloat. As the situation normalizes, hospitals will resume implementing their long-term plans again and will prioritize acquiring technologies that drive efficiency and profitability. Radical change takes time but is inevitable.
A sector on the M&A menu?
The shift to home and value-based care are two of healthcare's largest secular growth drivers. These new care models are critical to curbing healthcare inflation, improving patient outcomes, and making the system more efficient. Despite the Biden Administration pushing back timelines for implementing key value-based reimbursement models at the national level, some states are moving ahead.
CVS's takeover of Signify Health for $8bn confirmed this thesis. The deal consolidates an industry trend that sees healthcare systems and tech giants looking for virtual, home care, and data analytics services to boost their in-person healthcare offerings.
We believe the home and value-based care shift is still relatively early, and we expect the M&A activity to continue across this sector.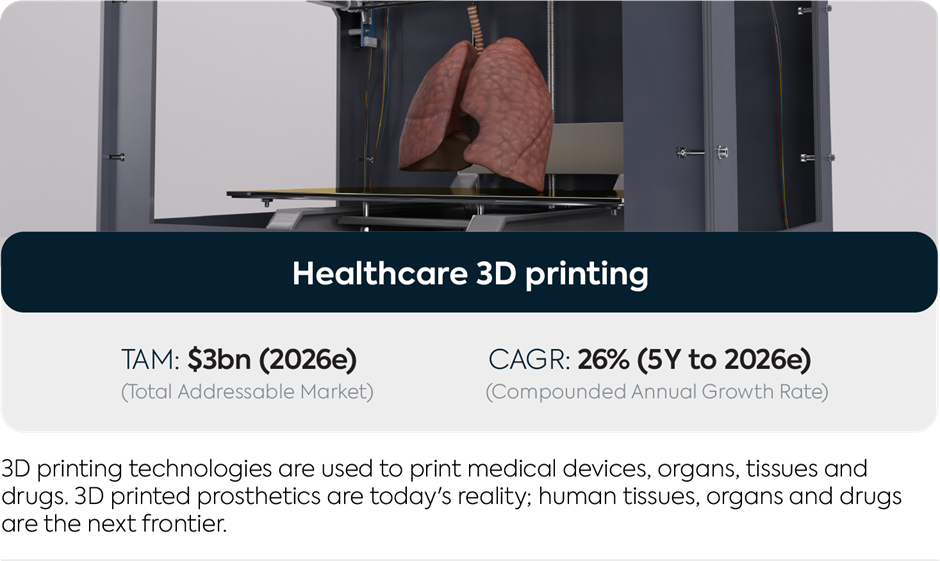 The road ahead is grim
Afflicted by macro-economic woes
The dire macro environment and softer discretionary spending have led to slower growth in certain critical end-markets of 3D printing, such as dental and orthopedic services, causing 3D printing stocks, such as Align or 3D Systems to crater. Nevertheless, they keep investing in new materials, releasing new printers, and expanding their ambitions in healthcare.
A pill not so hard to swallow, thanks to 3D printing
Previously driven only by hyped expectations, 3D printing technology for drug applications finally looks on the verge of exiting the long trough of disillusionment. Using 3D printing technology for drug development will reduce the cost and time required to bring an experimental drug to market, improve its safety and remove the need for animals.
This year, 3D Systems partnered with United Therapeutics to develop organ scaffolds on a chip for use in the drug testing industry and presented the most complicated object ever printed, a complete human lung scaffold. 3D Systems set up a new subsidiary called Systemic Bio that will initially sell its organ-on-a-chip platform to help drug discovery companies. A new revenue stream that could approach $100mn annually over the next five years. The ultimate goal is to be able to 3D print human organs for transplants. 3D Systems believes the first 3D-printed lung for transplants will enter clinical trials by 2025.
It is not a horror movie, it is 3D printing
Toulouse University Hospital in southern France provided a woman with a new 3D-printed nose grown on her forearm after she lost hers while being treated for cancer. A custom nose was reconstructed entirely from a synthetic graft of 3D-printed biomaterial to replace cartilage.
The successful operation marked an unprecedented intervention with cutting-edge 3D printing technology.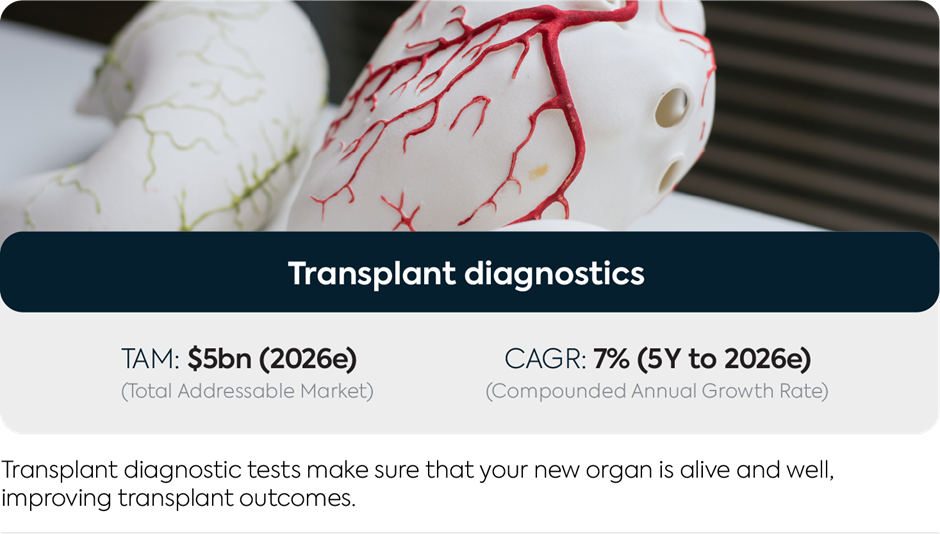 Heading toward a big cliff?
The ugly truth
This year performance of transplant diagnostic tests has taken a blow. A high cash-burning sector in an environment where the cost of money increases, the extremely low barriers to entry, with more players entering the market (Natera, OncoCyte, and Eurofins), make it hard for now to envision a better future.
A rising tide that lifts all boats
New technologies for organ preservation are expanding the total addressable market of transplant diagnostics. Transmedics's new Organ Care Systems are revolutionizing this market by increasing the volume of organs available for transplant. Transplant diagnostic tests, whose function is to promote a better match between the organ and recipient and help provide post-transplant surveillance for immune rejection, are the primary beneficiaries of this trend.
Catalysts that could flip the script
Lungs will be the next target opportunity for transplant diagnostic companies. CareDx's AlloSure Lung expects CMS reimbursement coverage by year-end. The low penetration and post-pandemic rebound of lung transplant volumes represent additional sources of potential upside.
An increased acquisition activity could represent another tailwind. Large diagnostic firms could put their hands in their pockets to shop in the transplant diagnostic arena.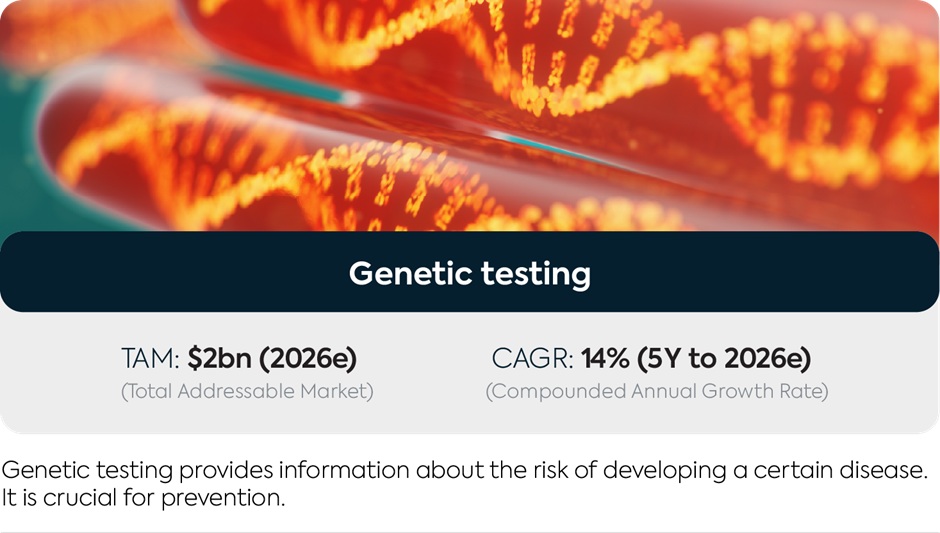 In a downward spiral
From nice to have to must have? Not so fast
Early knowledge of a person's genetic predisposition to the risk of developing the pathologies can prevent their occurrence. Today genetic tests give people information about obesity, nutrition, skin, hair loss, ancestry, and life cycle.
Prices of some direct-to-the-consumer genetic tests have dropped dramatically over the last ten years to the point that these products have almost become a commodity. The cost ranges between $100-$1'000 and is generally not covered by insurance. The sector has slumped this year since economic straits will mean fewer customers willing to pay to check their genetic footprint.
We underweight the B2C genetic testing sector as it is characterized by fierce competition, poor barriers to entry, and low technological differentiation. On the contrary, B2B genetic tests, currently emerging to support the development of the biotech industry, represent a more appealing opportunity.
A gene therapy ally
B2B genetic testing benefits from the rapid emergence of genetic therapies by allowing physicians to identify patients with inherited conditions. This year the FDA and EU Commission have finally approved the first drug for a rare monogenic (i.e., derived from a single gene disorder) cause of obesity. The drug, setmelanotide (brand name Imcrivee), is developed by Rhythm Pharmaceuticals. Imcrivee uses Exact Sciences' newly acquired companion diagnostic developed by PreventionGenetics. As new genetic drugs emerge, new genetic test counterparts are developed to make sure we identify patients that can benefit from those treatments.
A rare gem for rare diseases
Genetic tests are helping expand the market of diseases once considered rare. These tests show us that what we once thought was a rare condition is not so rare after all. Cardiomyopathy is a perfect example. The condition was often mistaken for other cardiac diseases leading to significant under-diagnosis (only 1–2% of 500k patients with cardiomyopathy were correctly diagnosed). Recent advances in genetic testing are helping doctors close this gap, significantly expanding the addressable market of potential treatments.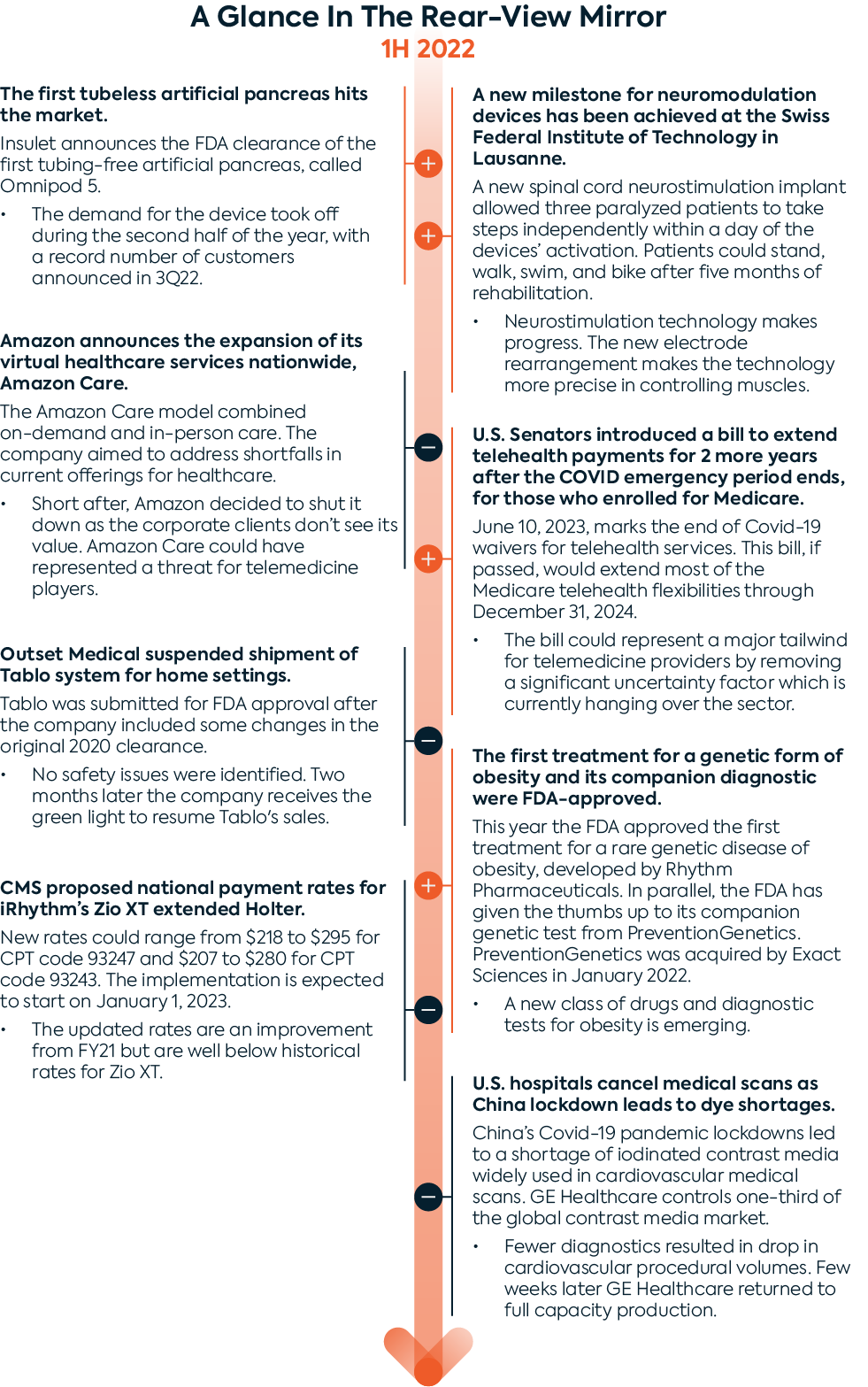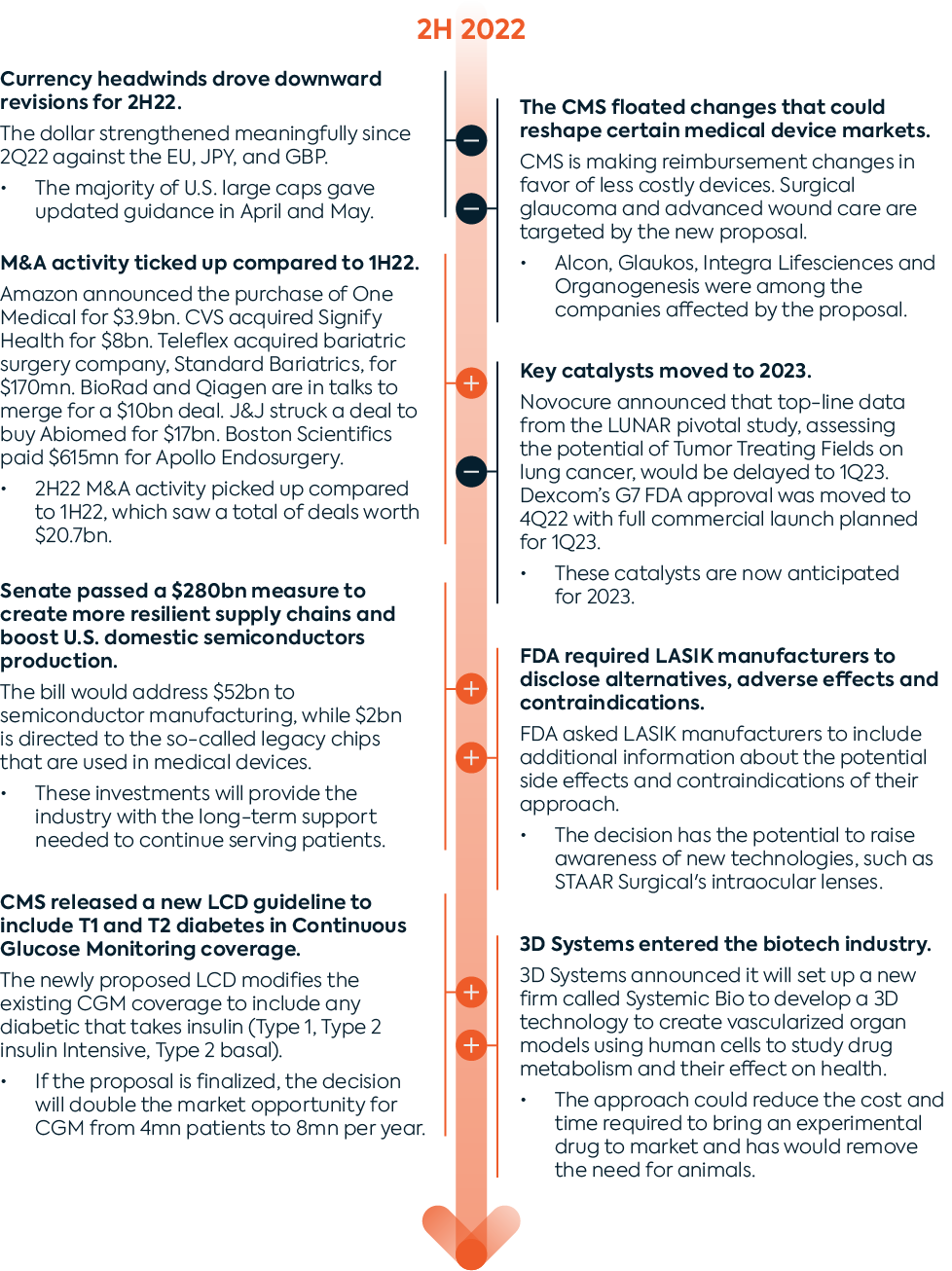 Catalysts
Cures 2.0 Act approval. The legislation, introduced in November 2021, aligns regulation & reimbursement with innovation.

Breakthrough advancements and clinical readouts. Disruptive innovations in key MedTech sectors are planned to reach the market or lead to critical clinical milestones.​

Rising procedural volumes. An endemic COVID phase and the stabilization of staffing shortage and supply chain could drive diagnostics and procedures up and finally induce a backlog-recovery.​
Risks
Weakening top and bottom lines. COVID, medical staff shortages, supply chain bottlenecks, and inflation​ could persist, affecting the companies' top and bottom lines.

Hospitals tighten their belts. A soft hospital spending environment might affect the demand for devices that require high upfront payments.

Unfavorable stances on reimbursement and regulation. Cures 2.0 Act could be repealed. Since May of this year, MedTech companies selling medical products in E.U. will need to meet the stricter regulatory requirements described under the new Medical Device Regulation (MDR).
Companies mentioned in this article
3D Systems (DDD); Abbott (ABT); Align (ALGN); Amazon (AMZN); Axonics (AXNX); Beta Bionics (Not listed); Biofurmis (Not listed); CareDx (DNA); Dexcom (DXCM); Element Biosciences (Not listed); Eurofins (ERF); Exact Sciences (EXAS); Illumina (ILMN); Inspire Medical (INSP); Insulet (PODD); Johnson and Johnson (JNJ); Lantheus (LNTH); Medtronic (MDT); Miromatrix Medical (MIRO); Natera (NTRA); Novocure (NVCR); OncoCyte (Not listed); One Medical (ONEM); Pacific Bioscience (PACB); Rhythm Pharmaceuticals (RYTM); Senseonics (SENS); Shockwave Medical (SWAV); Singular Genomics Systems (OMIC); Tandem (TNDM); Transmedics (TMDX); Ultima Genomics (Not listed); United Imaging (688271); United Therapeutics (UTHR)
Back to all articles
Explore:
Disclaimer
This report has been produced by the organizational unit responsible for investment research (Research unit) of atonra Partners and sent to you by the company sales representatives.
As an internationally active company, atonra Partners SA may be subject to a number of provisions in drawing up and distributing its investment research documents. These regulations include the Directives on the Independence of Financial Research issued by the Swiss Bankers Association. Although atonra Partners SA believes that the information provided in this document is based on reliable sources, it cannot assume responsibility for the quality, correctness, timeliness or completeness of the information contained in this report.
The information contained in these publications is exclusively intended for a client base consisting of professionals or qualified investors. It is sent to you by way of information and cannot be divulged to a third party without the prior consent of atonra Partners. While all reasonable effort has been made to ensure that the information contained is not untrue or misleading at the time of publication, no representation is made as to its accuracy or completeness and it should not be relied upon as such.
Past performance is not indicative or a guarantee of future results. Investment losses may occur, and investors could lose some or all of their investment. Any indices cited herein are provided only as examples of general market performance and no index is directly comparable to the past or future performance of the Certificate.
It should not be assumed that the Certificate will invest in any specific securities that comprise any index, nor should it be understood to mean that there is a correlation between the Certificate's returns and any index returns.
Any material provided to you is intended only for discussion purposes and is not intended as an offer or solicitation with respect to the purchase or sale of any security and should not be relied upon by you in evaluating the merits of investing inany securities.
Contact