Our Blockchain & Digital Assets strategy shifts to only stocks
Due to regulatory changes, our exposure to cryptocurrencies was sold. This has no material impact on our blockchain strategy.
Bottom line
The Blockchain & Digital Assets strategy is now only invested in stocks highly sensitive to digital assets. The change in the investment universe does not change the investment objective of the strategy or the expected risk-return profile of the portfolio and its low correlation to traditional assets. We remain convinced that blockchain technology has the potential to disrupt many industries and offers a rare investment opportunity.
What happened
Following a regulatory change impacting our issuer, our mandate and investment universe for the strategy of Blockchain & Digital Assets were adjusted. At the end of April 2023, we sold all direct exposure to cryptocurrencies (~22% of the portfolio); the strategy is now only invested in blockchain-related stocks.
The Dubai Financial Services Authority, the regulatory body of the issuer for our Blockchain & Digital Assets product, updated its crypto regulation on 1 November 2022. After a 6-month transition period, all entities wishing to carry out financial services in relation to crypto assets had to get an appropriate license. Our issuer decided not to pursue this license for the moment. As a result we were forced to exit our direct exposure to cryptocurrencies.
Impact on our Investment Case
No change in the investment objective
Since its launch, the Blockchain & Digital Assets strategy's objective has been to expose investors to the fast-growing ecosystem of blockchain technology. The imposed sale of cryptocurrency holdings does not alter this objective.
We have not changed the type of companies we pick for this strategy, i.e., companies that generate revenue from the blockchain ecosystem. When cryptocurrencies go up, and the sentiment is positive, these stocks also trend upwards.
The proceeds from the sale of the cryptocurrencies were mainly invested in miners, exchanges, and firms providing crypto payment solutions. The below chart summarizes the sub-themes of the strategy.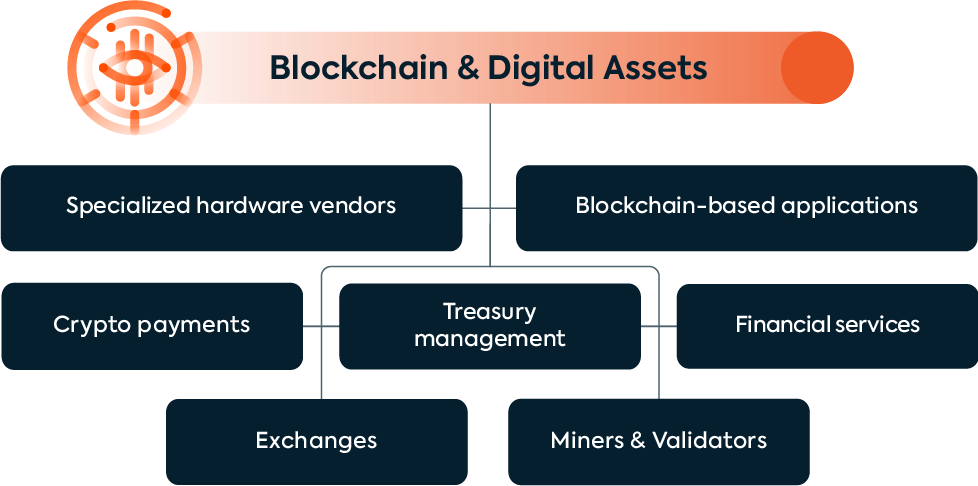 While the strategy is now only exposed to stocks, we expect its risk profile to remain unchanged. We expect the correlation of the strategy to Bitcoin to stay high (historical average of 0.8), while the correlation to the broad equity indices should remain low. Thus, it brings diversification to a multi-asset class portfolio.
No change in our crypto research
The Blockchain & Digital Assets portfolio was only exposed to a handful of cryptocurrencies. These were large capitalization projects with an established network of users and an active community of developers.
Since the stocks in our Blockchain strategy will remain highly sensitive to this ecosystem, we have no intention of reducing our research effort on this emerging asset class. We will keep studying technological milestones (e.g., Ethereum Shanghai upgrade: Are validators fleeing the market?) and market dynamics (e.g., Crypto market volatility: beware of a domino effect!) through fundamental research and on-chain data analysis.
No change in the regulatory mess
We have always been strong advocates of better regulations to end the crypto far-west. This should eventually bring institutional investors to this asset class. But we must admit that a better regulatory framework, in this case in Dubai, has forced our issuer to decide whether or not to continue offering services for such an asset class.
Traditional banks suffer from regulatory uncertainty and a lack of global standards to fully embrace digital assets. MiCA was finally adopted in Europe. In the United States, regulatory agencies have decided to suit all possible entities for basically all types of crypto-related activities. They all want to protect investors and avoid another FTX scam but lack coordination.
And even when there is a clear regulatory framework in a country (e.g., in Switzerland), banks may be imposed hefty capital charges for holding any crypto assets on their balance sheet. This will not change anytime soon; the Basel Committee aims to penalize the holding of anything that does not look like a fully-backed stablecoin.
We will come back to the regulatory challenges for this asset class in another article.
Our Takeaway
The Blockchain & Digital Assets strategy is now easier to understand: it is a portfolio of stocks exposed and sensitive to blockchain technology.
The absence of cryptocurrencies in the portfolio does not worry us. Despite the potential of tokenized shares (which should eventually become mainstream) or innovative utility and governance tokens, common shares remain the best solution to get an actual ownership stake in a company. We expect our investment universe to keep growing. As innovative companies will need funding for their growth, they will eventually go public.
Finally, we emphasize that the imposed change of mandate keeps our conviction for this technology and this investment theme the same. We strongly believe that a more decentralized version of everything is on the verge of being built. As the infrastructure is being scaled up, applications will grow exponentially. And with the end of the crypto winter nearing, a change in monetary policy upcoming, and the banking crisis still ongoing, this asset class has bright days ahead.
Back to all articles
Explore:
Disclaimer
This report has been produced by the organizational unit responsible for investment research (Research unit) of atonra Partners and sent to you by the company sales representatives.
As an internationally active company, atonra Partners SA may be subject to a number of provisions in drawing up and distributing its investment research documents. These regulations include the Directives on the Independence of Financial Research issued by the Swiss Bankers Association. Although atonra Partners SA believes that the information provided in this document is based on reliable sources, it cannot assume responsibility for the quality, correctness, timeliness or completeness of the information contained in this report.
The information contained in these publications is exclusively intended for a client base consisting of professionals or qualified investors. It is sent to you by way of information and cannot be divulged to a third party without the prior consent of atonra Partners. While all reasonable effort has been made to ensure that the information contained is not untrue or misleading at the time of publication, no representation is made as to its accuracy or completeness and it should not be relied upon as such.
Past performance is not indicative or a guarantee of future results. Investment losses may occur, and investors could lose some or all of their investment. Any indices cited herein are provided only as examples of general market performance and no index is directly comparable to the past or future performance of the Certificate.
It should not be assumed that the Certificate will invest in any specific securities that comprise any index, nor should it be understood to mean that there is a correlation between the Certificate's returns and any index returns.
Any material provided to you is intended only for discussion purposes and is not intended as an offer or solicitation with respect to the purchase or sale of any security and should not be relied upon by you in evaluating the merits of investing inany securities.
Contact