Outlook 2023 - Biotech 360°: A slow starter blasting off into a new era
After a rough 2022, many delayed catalysts are setting up to shape a better 2023. There is an impending need for innovation in the medical field, and long-awaited results are likely to drive investors' interest. Nevertheless, economic conditions will exact their toll, and selectivity will remain key.
Bottom line
2022 started on a wrong foot for biotech, with healthcare innovation and growth indexes badly down. The dichotomy has become especially sharp between the dearth of market action and the scrambling behind the scenes for innovation. M&A seems not to be fashionable anymore among big pharmas, despite very deep pockets, as they are moving toward leaner models, and valuations are still demanding.
At the same time, we are strong believers that innovation will always attract juicy deals in one way or another. Gene therapy and small molecules are areas we are confident will deliver the promised innovation. Expect 2023 to bring delayed catalysts to fruition.
Finally, 2023 is also going to be a pivotal year for drug pricing, likely to shake the industry to its very foundations. The potential winners will be the most efficient and cost-saving technologies. Outsourcing and AI/Analytics services spring to mind, but also Chinese players will grab the opportunity to expand internationally by leveraging their cost advantages.
Table of content
Portfolio Snapshot
Biotech 360° Overview
Genetic medicine
Small molecules
Protein-based drugs
AI / Analytics services
Tissue & cell therapy
Life science tools
Outsourcing services
Organism-based drugs
A glance in the rear-view mirror
Catalysts / Risks
Portfolio Snapshot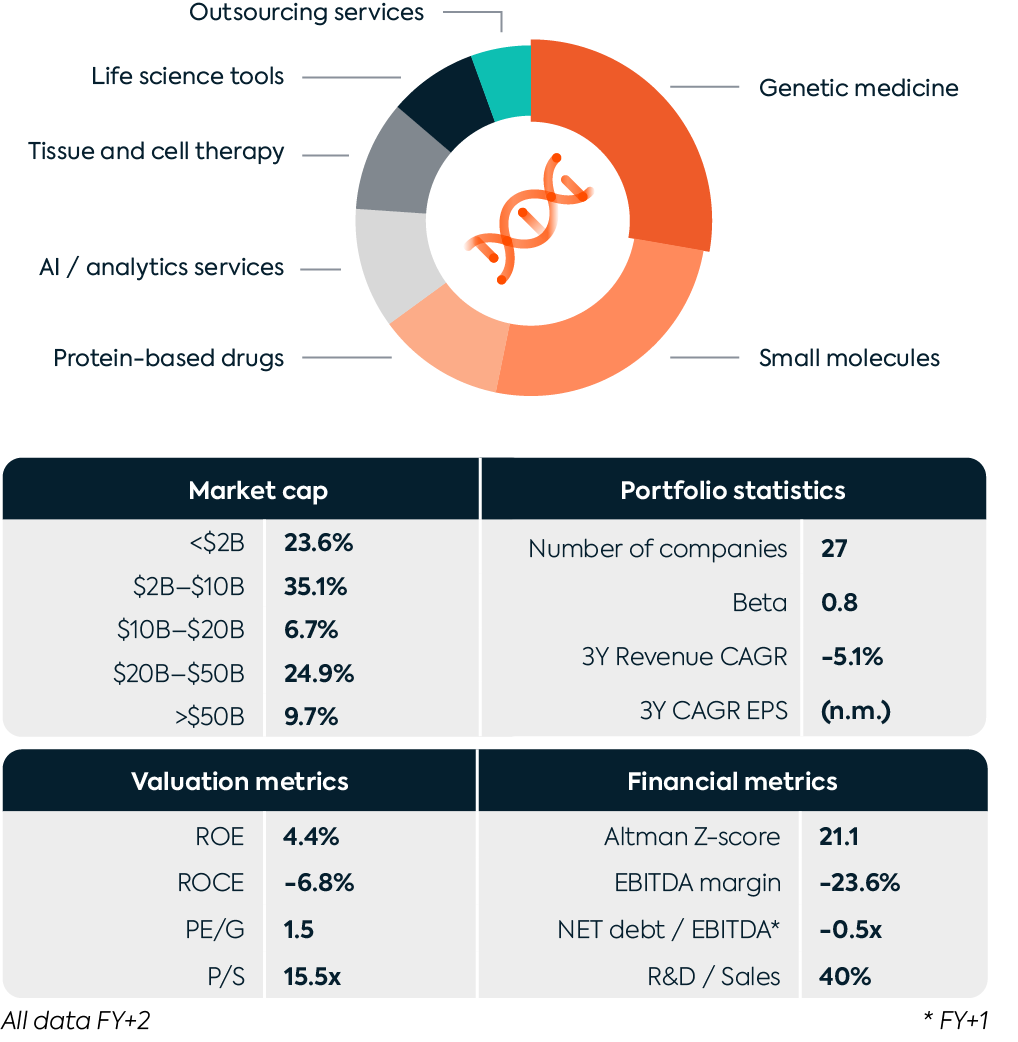 Overview

Is 2023 going to play catch-up?
A tough year, as our convictions suffer from delays
2022 has been a very tough year for our portfolio, impacted by high-beta names. While our portfolio underperformed main sectorial indices, such as the S&P Biotech or the Arca Biotechnology, these indices started outperforming the broader market (i.e., Nasdaq) in the summer. It might signal that better days are ahead of us as the market has better swallowed bad news for larger caps in the sector, helped by valuations that look increasingly appealing.
We had built our portfolio on strong convictions at three levels: macro, technology, and diseases.
At the macro level, we had three main ideas: first, we expected Chinese biotech companies to challenge the U.S. market, but the FDA made a 180° pivot. Second, we expected no major drug pricing reform to pass, but it surprisingly did within the Inflation Reduction Act (IRA). However the good point is that no price caps have been imposed on innovative drugs (where most of our holdings are). Third, R&D enablers, supposed to help to weather the storm by supporting R&D and manufacturing at a lower cost, got caught in the crossfire of both U.S.-China tensions and headline-making execution issues.
Looking forward, cost control remains a key driver for the industry, China is likely to fight back, and the political battle about drug pricing is far from over.
At the technological level, our convictions were: first, mRNA players would be rewarded for progress outside their Covid pipeline, but despite relative successes, they were not; second, we expected protein degrader players to materialize confidence in their progress, but on most programs big competitors like Pfizer failed and lowered investors' confidence in the field; third, we expected cell therapy to shine, and we were not disappointed by Legend Biotech's drug approval and first sales figures.
At the disease-modifying level, we expected players focused on the NASH liver disease to release data worthy of the next blockbuster, but Madrigal, our bet in the space, is still keeping us waiting.
Again, going into 2023, most of these delayed catalysts may come to fruition.
At the expense of repeating ourselves, the healthcare market is still in dire need of innovation. The FDA is well aware of this and is pushing for more and more curative therapies to get on the market.
Innovation is still coming whether you want to invest or not
It is well-known by Biotech portfolio managers and investors that conferences held around year-end, like ASH or the JP Morgan Healthcare conference, serve to consolidate and review major catalysts for the sector. Companies' newsflow is often very rich around those conferences.
In what seems like a bleak set of predictions, lights shine through the cracks for 2023 and onward.
NASH clinical data are still expected for millions of patients in desperate need.
The good but not paradigm-shifting data of Eisai on Alzheimer's disease are nonetheless shaping a future for Alzheimer's treatment and investment.
AI-driven drug discovery will finally have a chance to speak in the clinics.
Cell therapy is still expected to beat all the standards of care for blood cancer and move to earlier lines of treatment.
Gene editing is moving at break-neck speed through clinical trials.
Protein degraders have a flurry of clinical read-outs to appease the naysayers.
The obesity drug market is giving hope to millions
All sectors we have a position in, and with most companies deep below their IPO price or back to early 2020 levels, the rebound could be significant.
Growth will be organic: no M&A shopping spree but numerous deals
All analyst predictions for 2022, including ours, regarding M&A turned out pretty wrong. The M&A shopping spree did not happen.
Valuations are depressed and market conditions for young biotech too, but three factors are at play. Firstly, valuations may have been set back to 2017-2019 levels, but big pharma already thought it was expensive at the time, reminded Roche's CEO. Secondly, so many early companies IPOed in 2020-2021 that it is difficult to separate the chaff from the wheat for big pharmas' business units. Thirdly, big pharmas want to be leaner, which is a mostly underappreciated factor.
Of course, there will always be M&A transactions, especially on cash-constrained companies, as Pfizer did for Biohaven and especially knowing the big pharma sits on more cash deployable than the current value of the whole SMID biotech sector! But we believe that the operational deals will increase disproportionately compared to M&A, to benefit from innovation through leaner structures.
Drug pricing: all eyes are on the Inflation Reduction Act and Mark Cuban
During the summer, the Biden administration passed the Inflation Reduction Act (IRA), a drug pricing reform hailed by Biden as the "we beat big pharma" moment. Even if it comes to untying the hands of Medicare for blockbuster price negotiation in the years to come, its implications are still fuzzy. AbbVie, Alnylam, Eli Lilly, and Merck complained that it is unclear. They slashed programs out of fear that current or future blockbusters get a 40% discount price. It is unclear whether their prices are too high or if they overestimate their drug to be a blockbuster by 2026-2030. In any case, 2023 will bring some clarity and see a republican pushback against it, which would play as a positive catalyst. Within atonra's biotech strategy, though, we look for innovative drugs vastly exempt from the drug pricing cap.
One of the hottest current endeavors in drug pricing is one from the market. As we said last year, prices will be more constrained by economic actors than politics. If the Chinese pressure has been kept at bay, the biggest threat is coming from the U.S. itself. In the word of billionaire Mark Cuban: "You've got one industry that's f***ed up and three players (PBMS) that f*** it up, and now it's my turn to f*** them up." In just nine months, CostPlus (Mark Cuban's pharmaceutical company) has generated over $25mn in revenue by selling generics with the simple formula (COGS + 15% + $3) while saving people millions of dollars. A story that could turn big in 2023, and in line with our view that the PBMs will be the first ones to suffer.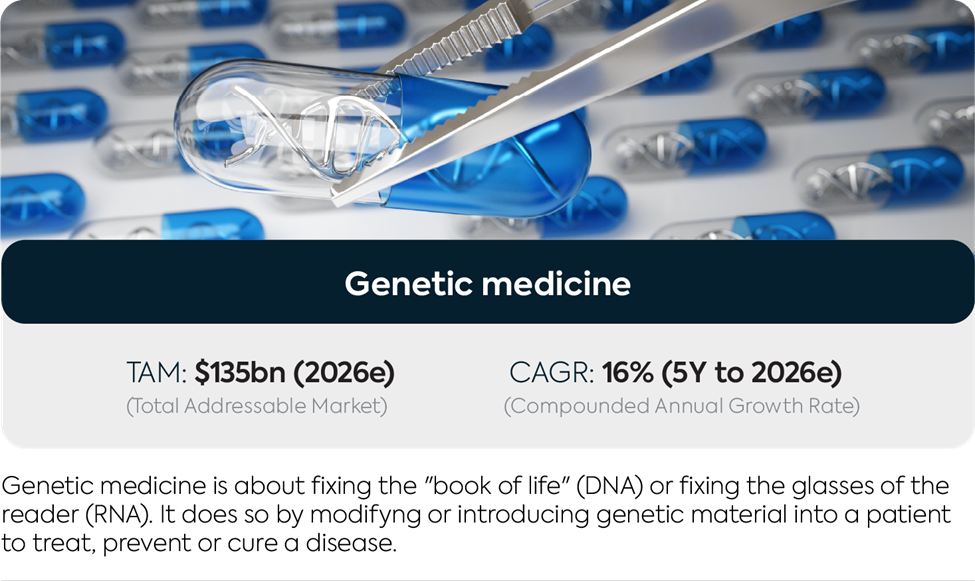 Good fundamentals need time to show through
Several gene therapy commercial launches are in sight
News of companies joining the very select club of >$1mn therapies have been flourishing this year - notably with UniQure's Hemegenix, BioMarin's Roctavian, and Bluebird bio's Zynteglo or Skysona joining Novartis's Zolgensma in the $2-3mn therapy circle.
The figures are staggering, but there again, the ICER (Institute for clinical and economic review) estimates that the related healthcare cost of these diseases is often twice that. For example, patients suffering from β thalassemia, a blood disorder that reduces the production of hemoglobin, will total over $6.4mn in blood transfusion costs over a lifetime. The treatment from Bluebird bio is a $2.8mn one-shot injection.
Money consideration aside, analysts are worried about the actual commercial success and reach of these therapies, reflected in the stocks being flat for BioMarin or in negative territories for Bluebird.
We believe that there is a misunderstanding about the global picture. The aim of the industry is to secure, first and foremost, safety and then efficacy data. The genomic revolution first needs to be safe, there will be no multi-trillion-dollar revolution if not. At atonra, our eyes will be on the safety and efficacy profile of these therapies in 2023, as it will impact the whole sector.
CRISPR gene editing now spans from discovery to cure
If CRISPR stocks were all the rage end of 2020 and mid-2021, with notably Intellia securing the first in vivo gene editing data, the market turned sour for gene editing stocks in 2022. One reason is that not all programs yielded future blockbusters, e.g., EDITAS disappointing clinical results, the second being the risk-off sentiment on companies half a decade from generating profits.
The difference with most gene therapies is that CRISPR-based therapies are engineerable. The proof is we saw the second generation of CRISPR therapies enter clinical trials already this year with Verve Therapeutics (+200% in the month following the news). The third generation of CRISPR therapies embodied by PRIME Medicine just IPOed this year in October.
2020 was the market discovery, 2021 the proof of concept, 2022 the Cambrian explosion, and 2023 will be the selection year. As most companies except PRIME Medicine will deliver clinical data in 2023, the divergence between stocks in the sector will amplify.
mRNA cancer vaccines give signs of life
As a reminder, BioNtech and Moderna are running ~50% of the mRNA clinical trials in the world. BioNtech focuses 2/3 of its pipeline on oncology and 1/3 on infectious disease, while Moderna does the opposite. Both companies combined have over 70 programs running (>50 outside of Covid-19).
BioNtech notably showed that clinical responses seen in patients with testicular cancer treated with BNT211 are encouraging: one complete response, three partial responses, and two stable diseases were seen, representing an overall response rate (ORR) of 57% and a disease control rate (DCR) of 85%.
Regarding Moderna, the encouraging sign comes from Merck, which exercised a $250mn option to develop and commercialize cancer vaccine mRNA-4157/V940 jointly for high-risk melanoma.
Both actors, BioNtech and Moderna, should deliver between three to four Phase 1 and 2 data in 2023.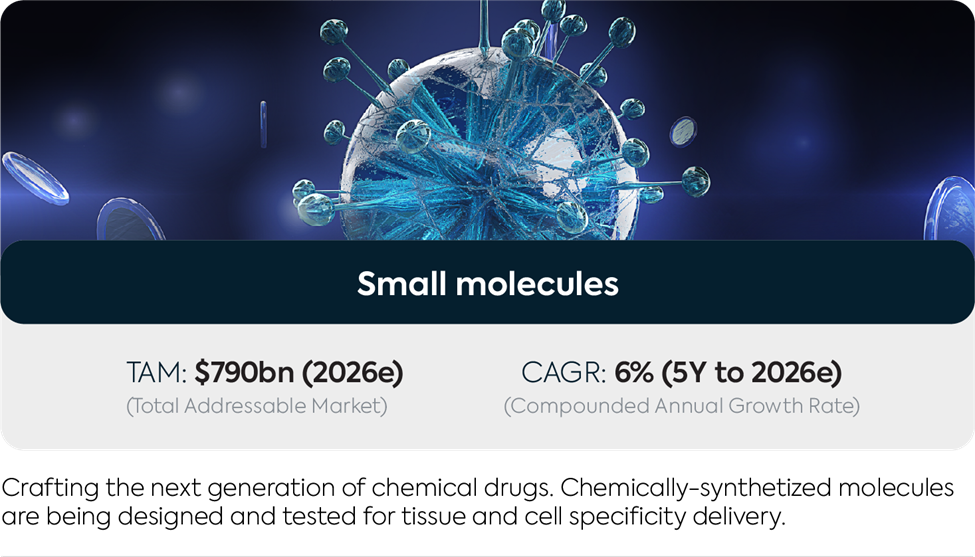 Metabolic space and oncology will grab investors' attention
NASH is regaining momentum
NASH is one of the prevalent diseases plaguing humans. Prevalence in adults is around 6% worldwide and is expected to rise 63% by 2030. NASH, which stands for Non-Alcoholic Steato Hepatitis, is a condition in which excess fat is stored inside liver cells, making it harder for the liver to function until it stops working altogether. Boosted by a combination of obesity and pre-or-diabetic condition, NASH is on course to be the n°1 cause of liver transplant.
NASH is a cemetery of potential blockbusters. Few diseases have known so many clinical trial failures. Intercept, a leader in the space, is trying to stay afloat, but competitors are showing up. Akero released very encouraging data for the disease stage before NASH, and the stock doubled overnight. Madrigal, another competitor, should publish any day now the data on its MAESTRO-NASH study.
Even though there is no drug on the market, the opportunity is around $24bn in 2028, a juicy market for Pharmas and nothing short of a miracle for patients. 2023 is probably the breakthrough year.
Obesity: 2023 will witness the Eli Lilly / Novo Nordisk clash
Obesity was on a lot of lips this year. Not only for being the bigger threat to health in the world, not for being a $50bn market opportunity, but because we finally have drugs addressing the issue.
Novo Nordisk's drug Ozempic got a strong head start in people's minds as a weight-loss drug, especially after it went viral on TikTok, with over 273mn views. Eli Lilly's Mounjaro, its main competitor, approved in May 2022, is ramping up production to nimble market share.
Novo Nordisk is currently unable to supply the demand, a situation that is leaving a door open for Eli Lilly. The 2023 prescription of Ozempic and Mounjaro will be under tight scrutiny, especially regarding China, the biggest diabetes and soon-to-be obesity drug market.
Protein degraders: history is not repeating
Protein degraders are small chemical molecules designed to bring a target protein within a cell to the cellular trash machine, hence degrading the targeted protein.
Following Pfizer's IRAK4 fiasco, the sector was going through a slope of disillusion. But companies are not giving up, and upcoming data will help shed some light on the potential of this revolutionary biotechnology.
Backed by Vertex and Sanofi, Kymera is working on its KT-474 molecule that targets dermatological indications and has a critical Ph1 readout coming up soon. Supported by Pfizer, Arvinas has just released good enough data to start its Ph3 clinical trial for ARV-471 as a first- and second-line treatment option for ER+/HER2- metastatic breast cancer. Nurix, another contender in the protein degrader's space, is set to release several key clinical data by year-end and later next year.
Underappreciated disruptive assets in a fast-growing segment are bound to be atonra's favorites.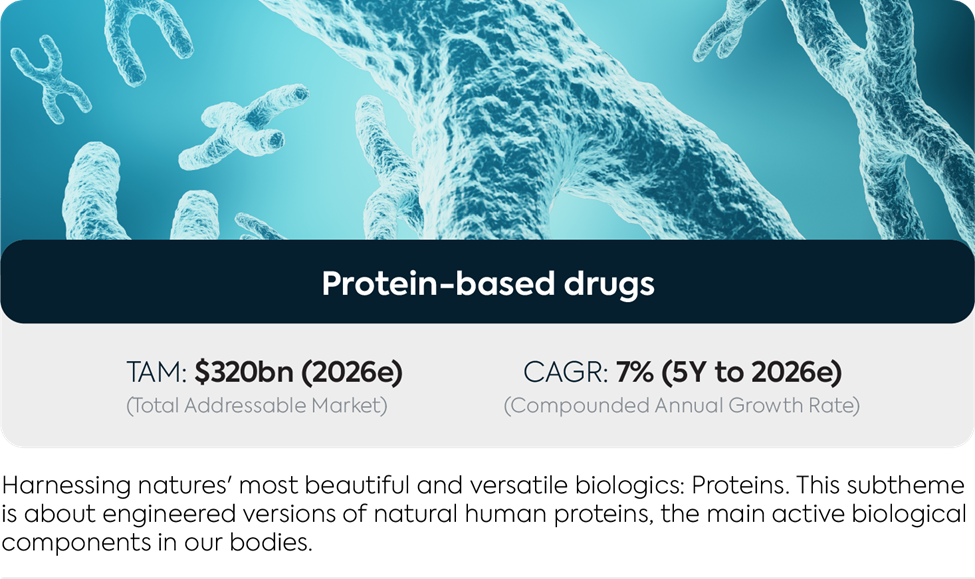 A collection of difficult relationships
U.S. - China: China could rebel
While Chinese biopharma companies are investing heavily in research and development to move from copycat to innovator, their success overseas remains limited by U.S. scrutiny.
In December 2021, we wrote that Chinese biopharma would be a challenger in the U.S. immunotherapy field. However, in a surprising U-turn, the FDA has decided to limit the importation of innovative Chinese drugs into the United States. Most deals expected this year fell down a hole.
But during the XXth CCP congress, Biotechnology was once again mentioned as a key industry to strengthen, and the Chinese market is in dire need of more efficient therapies. 2023 is bound to see some local approval challenging U.S. drug imports.
In addition, China wants to show the world it is not afraid to ban big players not playing by its rules – GSK was banned for 18 months for not respecting good manufacturing practices at one of their sites serving the Chinese market – a warning shot likely aimed at U.S. companies.
Alzheimer, a story to forget
The Biogen/Eisai story shows the fragility and hopes built-in the field. Biogen's Aduhelm, the heralded Alzheimer's drug of 2021, became riddled with issues. The new Eisai/Biogen's drug lecanemab seems to be following the same path, at least the two first steps: Euphoria, then more worrisome data, then running into pricing and reimbursement issues. Eisai will probably not repeat Biogen's pricing mistake.
Eli Lilly Alzheimer's drug results are anxiously expected for next year, especially knowing that Roche failed its Phase 3 with again an antibody very similar to Biogen/Eisai a few weeks ago. Eli Lilly's primary data are, at first glance, better than Roche and as good as, if not better than, lecanemab.
If Eli Lilly's antibody is better than Biogen/Eisai's antibody and the decision about pricing and reimbursement goes smoothly, then 2023 will spark numerous hopes for other companies in the space, like AC Immune. But at atonra, we believe the story has too many "if".
The SEAGEN / Merck story
Merck is facing mounting pressure about the patent cliff of Keytruda, one of the bestselling drugs in the world.
The path chosen in the last years has been to see if a combination with other therapeutics could expand the indications - and it did quite a few times, now Keytruda is used in combination with other therapeutic agents in 19 cancer indications.Seagen, the world leader in the field of Antibody-drug-conjugates (ADCs), is a target of choice to keep expanding the indications.
Keytruda is meant to unleash the immune system by removing its brakes, but it would be even more effective if an agent would target the immune system to the tumor at the same time; ADCs does just that. The issue is price, Seagen is not a cheap company, and no merger of >$40bn has happened since AstraZeneca bought Alexion.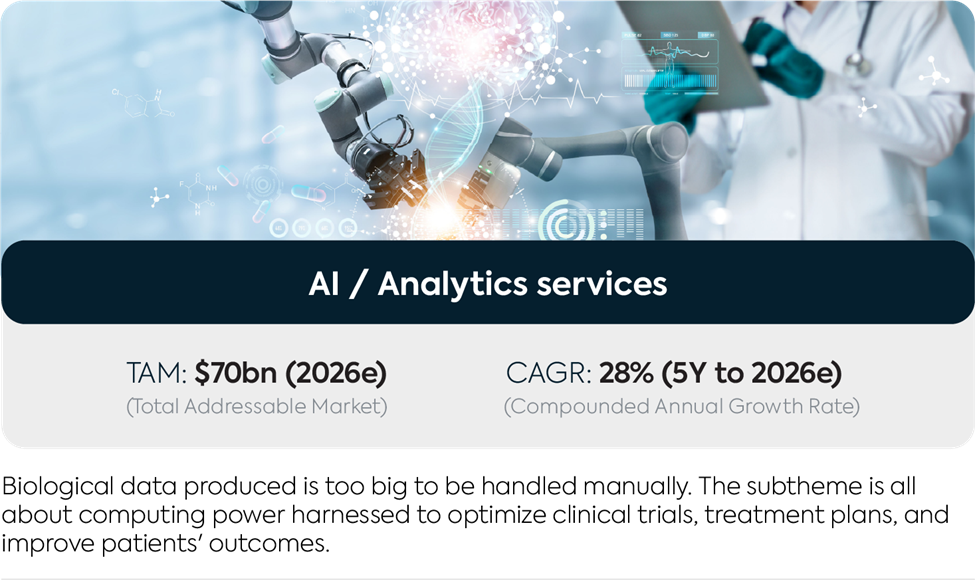 AI, are you ready?
AI drug discovery must validate its foundational event
2022 witnessed a pivotal moment in AI-driven drug discovery, with Google's DeepMind discovering the structure of 200mn proteins, i.e., every protein contained in every living being. The discovery will help accelerate the research for new treatment and shows how powerful AI can be when applied to drug discovery compared to more traditional processes, enabling to cut development time and costs. Aside from DeepMind, the field is progressively gaining momentum, as illustrated by Sanofi signing multiple deals, some of which crossing the $1bn threshold. However, business models are not yet proven, with AI players encountering difficulties in monetizing their software platforms and having to launch drug-discovery processes by themselves, becoming not so different from traditional biotechs in the process. We, therefore, expect the situation to evolve progressively as the first molecules reaching the various phases of clinical trials will validate the underlying tools.
Digital clinical trials steadily progressing
AI-powered clinical trials are progressively settling in, as highlighted by the good dynamics of players such as IQVIA and Veeva. The opportunity remains consequent, as the penetration rate of such technologies remains at the beginning of the curve. The two key drivers will remain the efficiency advantage, both in time and costs due to AI-driven optimization, and the increase in diversity leading to trials being more representative, hence a greater market exposure. We, therefore, expect 2023 to witness a steady rise in the adoption of AI solutions, allowing the field to navigate the incoming recession thanks to its cost advantage.
One of the most active fields for analytics services is "radiomics"
Machine vision is progressing fast, improving the reliability of image and pattern recognition tools. Medical conditions, such as tumors or bone fractures, have characteristic signatures on various medical images which can be identified. This opens an avenue for AI companies to jump into healthcare, like the landmark partnership between Nuance (acquired by Microsoft ) and Nvidia, helping physicians to optimize radiology medical imaging and clinical efficiency. AI technologies will support the early detection and treatment of disease and therefore improve patient outcomes. In the end, this will help bring down healthcare costs, providing an incentive for insurances and governments to push for the rollout of such technologies.
The FDA has already approved just over 500 AI-enabled medical solutions, most being in the radiology department. 2023 is bound to see an uptick in clinical practices and not just clinical testing.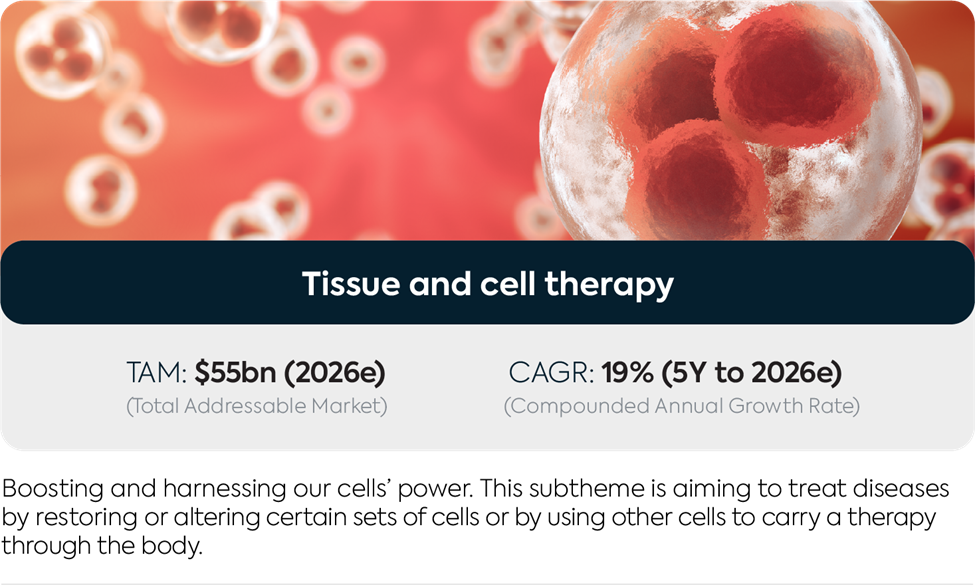 New cells regenerate the space
Legend biotech really keeps the pace
In February, a significant approval took place in a troubled space. While innovative Chinese drug developers were suffering, Legend Biotech, in partnership with Johnson & Johnson via Janssen, managed to secure an impressive approval in cell therapy.
The savvy partnership came on the back of data so solid in phase III for blood cancer that it was shortened to go for approval sooner than expected. On top of it, unlike the Innovent/Eli Lilly partnership, J&J was in constant contact with the FDA and understood the need to do an international clinical study.
Now Legend Biotech is looking for three avenues of growth for its cell therapy: firstly by increasing sales of Carvykti, secondly by moving earlier in the lines of treatment, and lastly expanding the indications to other cancers. All three missions are currently unfolding as planned or even better.
Time to shine for Natural Killer (NK) therapies in cancer
Today the focus is heavily on T-cells for cell therapy. But the immune system is composed of numerous other cell types. Another one that plays a significant role in targeting and destroying dysfunctional cells is called the Natural Killer (NK). As the name suggests, these cells are well-equipped with armament to kill and destroy cancer cells.
NKarta, an NK cell therapy developer, is looking for a breakthrough in Acute Myeloid Leukemia (AML), a blood cancer with no current standard of care. A complete response (60%), meaning the absence of all detectable cancer after the treatment, was achieved in three of five patients who had heavily pretreated AML. One must remember that all those patients have failed at least two previous therapies, meaning they are facing very aggressive cancers, and achieving a complete response is impressive. Fate Therapeutics, another NK cell therapy developer, is starting to show results superior to T-cell-based therapy for severe Non-Hodgkin Lymphoma.
In other words, if 2023 brings clinical confirmations, then the current estimates of a $70bn cell therapy market in 2027 may be overly conservative.
The R&D enablers invest in the space
One significant technical and regulatory difficulty is the manufacturing of cell therapy. Chemically synthesizing drugs and growing cells are as far apart as making paper planes and building a supersonic jet. To address this issue, the FDA released its guidance for cell therapy in March, six years after the first trailblazing approval of CAR-T cell therapies. It is pretty telling of how early the field is and why it is slow: the FDA itself does not know how to handle them.
For biopharma to speed up the manufacturing process without sacrificing quality, they seek to rely on trustable third-party like CDMOs. Interestingly, 2022 has seen a flurry of news going that way. For example, Catalent acquired the manufacturing facilities of Erytech. The CDMO operations of Novartis signed a cell therapy production deal with Carisma. AGC biologics is likewise expanding its production capacities.
We expect the most significant actors to reinforce their cell therapy manufacturing capabilities in 2023.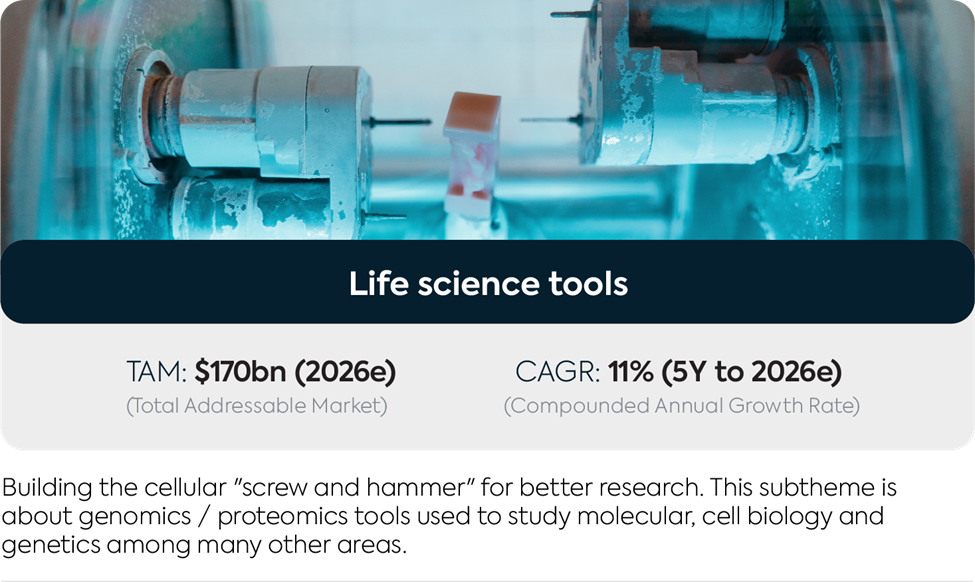 Good tools need strong hands
The battle of spatial biology is uphill
As the rise of next-generation therapies in pipelines drives demand for biological materials and "omics" tools, uncertainties in biotech funding and supply chain headings are putting pressure on small life science tool companies, especially for spatial biology players.
We wrote last December that while space biology is poised to become the next critical tool in biological research, the complexity of data processing and commercial execution slowed its adoption below initial expectations.
Nanostring reported quarterly results through the year consistently below consensus. Poor execution and bad logistics were to blame, while demand showed no sign of slowing down. It also suffered a small technological lag behind 10x Genomics, Nanostring's main competitor, that it makes up for in price.
The same story applies to10x Genomics, where revenues dipped due to the delay in new product launches and cold chain logistical challenges in Europe. Unlike Nanostring, Q3 results offered some hope and first data sales traction by their newest product.
2023 will be crucial to see if the launch of both companies' new products is driving enough sales and adoption.
A fierce battle shaping up in the sequencing space
Short-term headwinds are not impacting the long-term fundamentals. Life science tools companies continue to deliver new technologies that improve biopharma and labs' understanding of biology and diseases.
2023 will see the battle between Pacific Biosciences, Illumina, and Oxford Nanopore Technologies increase in intensity. Each represents a blend of conflicting and/or complementary DNA sequencing technologies. Illumina sequencing-by-synthesis uses a proprietary platform to amplify fragments of the genome being sequenced and then reads which base is added as the fragment is synthesized using fluorescently tagged bases. Pacific Biosciences sequencing-by-synthesis use circularized DNA fragment it can then sequence continuously, giving "longer" reads and better accuracy. Oxford Nanopore Technologies sequencing is very different, DNA is passed through a protein nanopore with an electric current. Each of the four bases in DNA causes a unique disruption in that current, which can be measured and translated into the respective base.
A new DNA synthesis approach is in the works
After the amazing advancements in sequencing technology, we are now witnessing another breakthrough innovation that has the potential to reshape the world: the ability to write DNA. Based on chemical synthesis, this process was developed in 1980, but now the era of enzymatic DNA synthesis is approaching, which offers a faster and safer method of production.
So far, the biotech and pharma relied on third-party providers of synthetic genes (Twist Biosciences, Molecular Assemblies, DNA Script, Evonetix, etc.), but a new market entrant, Telesis Bio, is planning to shake the sector. Its scalable desktop solution, the Bio Xp 9600 system, will make companies self-sufficient, and the enzymatic version will enter the market in 2023.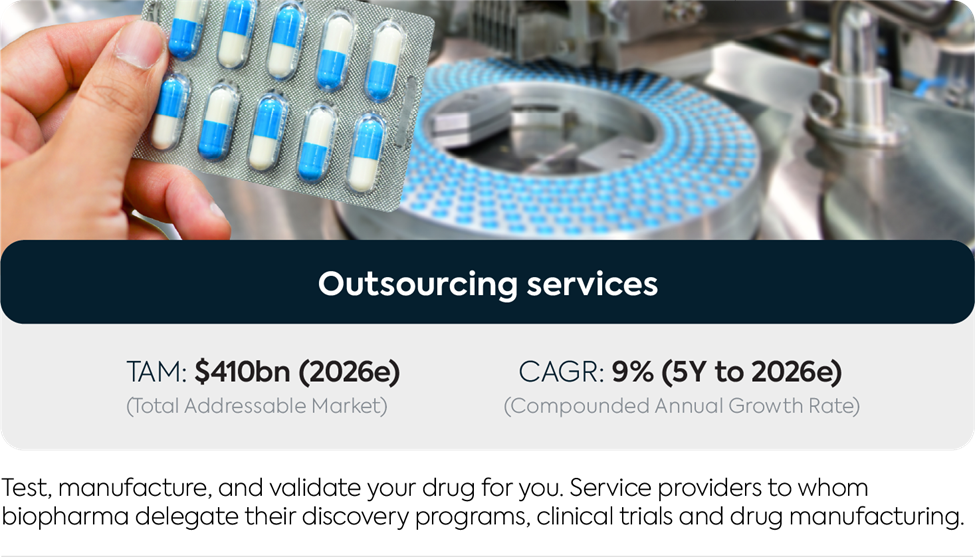 Hello, all our lines are busy, please call later
Running into a temporary pitfall
The CDMO/CRO market continues to enjoy strong growth with solid fundamentals, and the sector has been one of the most resilient markets in the first half of 2022. But the second half proved more difficult with Covid-19 revenue dwindling.
Big pharma companies, like J&J, Pfizer, Merck, BMS, AstraZeneca, and Novartis, continue to be the biggest spenders. Drug spending is also expected to return to its pre-pandemic growth trend by the end of the year.
Execution will be crucial
But execution will be crucial from pandemic-fueled revenues to new therapies development. Catalent's story depicts the importance the market prices in execution from CDMOs. The company's stock is down -60% YTD while being riddled with manufacturing issues, FDA audits, and a switch from Covid-19 to non-Covid-19 revenues. Despite the guidance being "only" cut by 3 to 8%, the stock has plummeted.
Over the next 5 years, more than 250 drugs are expected to be launched, representing more than $100bn in new spending. The money will only flow toward reliable suppliers. Reliability metrics will be paramount for 2023.
Consolidation is a telltale for CRO
The CRO market has taken a pause after the strong M&A activity recorded in 2021.
The CRO market is still fragmented, and in a biotech bear market, small companies can have a difficult time raising money and paying their bills to CROs. We believe this dynamic will push for a strong consolidation of the sector as CRO companies look to diversify their sources of revenue.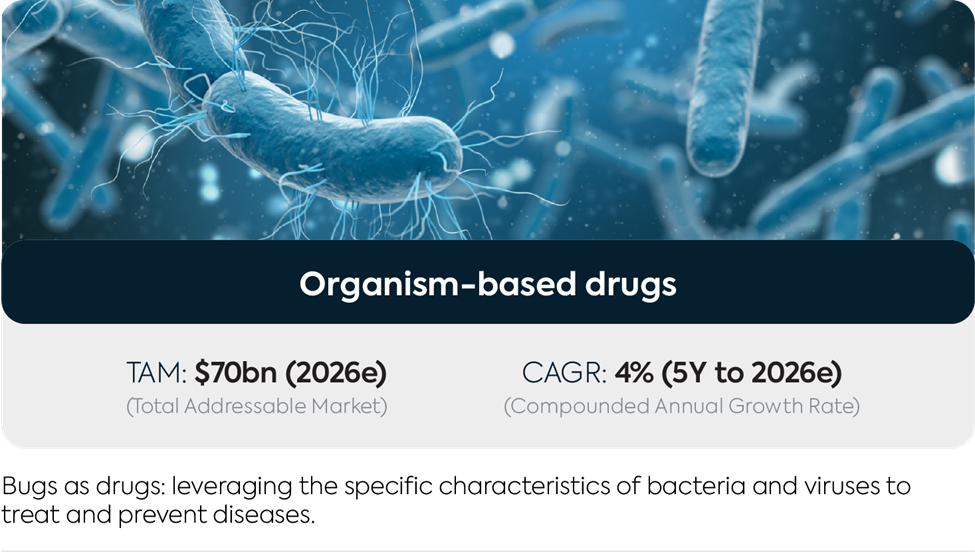 Virus and bacteria: friends and foes
Monkeypox was not the pandemic we feared
With the world still recovering from the Covid-19 pandemic, the global outbreak of monkeypox, first identified in May 2022, was raising serious concerns.
Moderna took immediate action and started working on an mRNA vaccine that could spur the immune response against this virus. However, unlike COVID-19, monkeypox was known before, and both an antiviral and a vaccine exist. Bavarian Nordic is one of the primary vaccine providers for monkeypox and received a few upsized deals for preparedness.
Cases since august are falling, and the threat of this virus does not seem as big as we were fearing. However, we believe this situation will fuel more policies about vaccine readiness.
The RSV vaccine market is heating up
RSV stands for Respiratory Syncytial Virus and is the single most common cause of respiratory hospitalization in infants, causing over 360'000 hospitalizations and 24'000 deaths globally in adults. There is no vaccine, and the only approved cure is Ribavirin, an antiviral medication that remains controversial.
The race for the first RSV vaccine on the market is extremely tight: GSK, Johnson & Johnson, Moderna, and Pfizer have rival vaccines in Phase 3. GSK is slightly ahead, has just published data on 60+ adults, and could capture most of the expected $10bn market. The case for mRNA versus recombinant and inactivated viruses will be a testing ground for Moderna next year.
Oncolytic viruses are still in the pipe
Viruses are not all foes and, earlier this year, we wrote about bacterial viruses killing microorganisms. But viruses can also be used to kill cancer cells.
Big pharma, such as Amgen, AstraZeneca, Merck, and Boehringer Ingelheim, have taken this route to fight against a wide range of cancers. Representing around a third of cancer vaccines in development, they are being developed for about 40 different types of cancers.
Over 160 clinical trials are currently under development, most of which are in the preclinical phase, but companies such as CG Oncology will release clinical data already next year and might catch significant attention.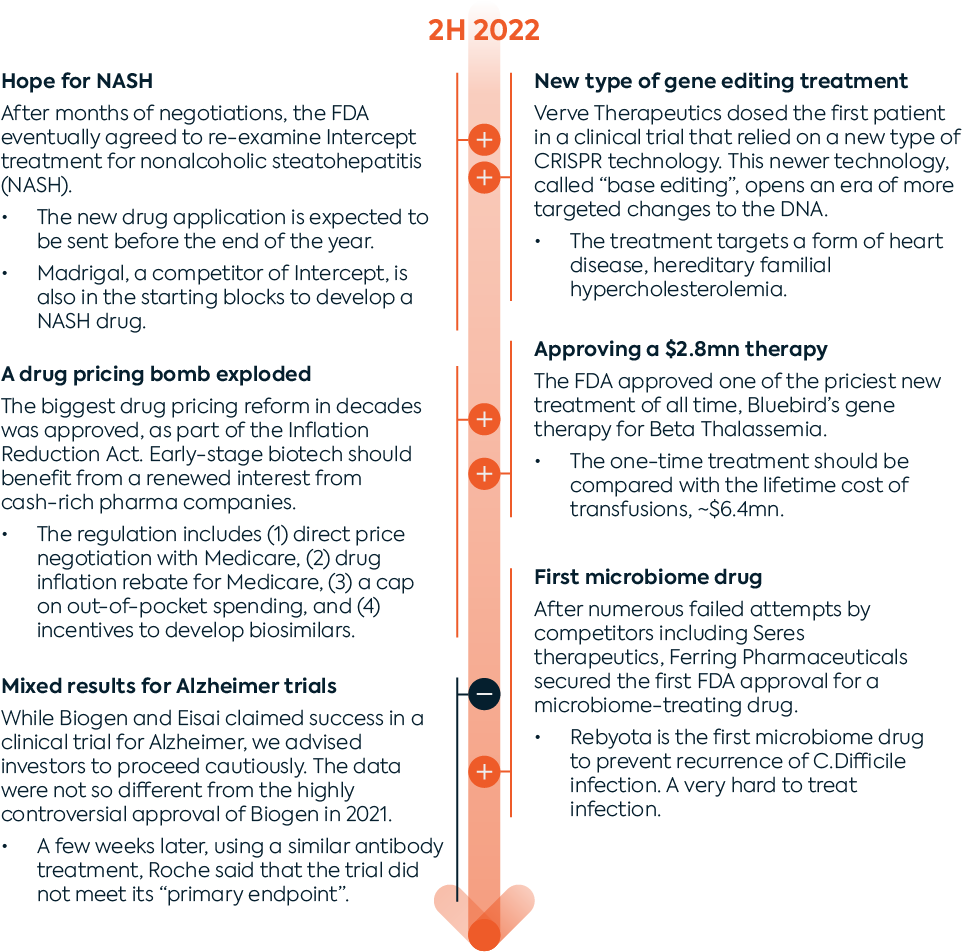 Catalysts
Deals picking up. Should the market see an uptick in M&A activity, deals, and royalties, the biotech market will rejuvenate.

Beating standard of care. The industry will get a boost, should the industry players deliver drugs that live up to the promise.

Fruitful IRA discussions. Should the final Inflation Reduction Act (IRA) have a muted impact on pharma and biotech pipelines, the sector's sentiment will massively improve.
Risks
Clinical failure in new tech trials. Cell therapy, gene therapy, and mRNA have all opened new markets in recent years, but clinical failures would reduce confidence in their sizing.

Funding drying up. Should raising public money become challenging, the pace of biotech innovation may be hampered.

Lack of deals and M&A. Should big pharmas continue holding onto their cash pillows (estimated at $300-500bn), the sector growth may start to decelerate.
Companies mentioned in this article
10x Genomics (TXG); AC Immune (ACIU); AbbVie (ABB); Akero (AKRO); Alexion (ALXN); Alnylam (ALNY); Amgen (AMGN); Arvinas (ARVN); AstraZeneca (AZN); BMS (BMY); BioMarin (FOLD); BioNtech (BNTX); Biogen (BIIB); Biohaven (BHVN); Bluebird bio (BLUE); Boehringer Ingelheim (Not listed); CG Oncology (Not listed); Catalent (CTLT); DNA Script (Not listed); EDITAS (EDIT); Eisai (Not listed); Eli Lilly (LLY); Erytech (ERYP); Evonetix (Not listed); Fate Therapeutics (FATE); GSK (GSK); Google (GOOGL); IQVIA (IQV); Illumina (ILMN); Innovent (1801); Intellia (NTLA); Johnson & Johnson (JNJ); Kymera (KYMR); Legend Biotech (LEGN); Madrigal (MDGL); Merck (MRK); Microsoft (MSFT); Moderna (MRNA); Molecular Assemblies (Not listed); NKarta (NKTX); Nanostring (NSTG); Novartis (NOVN); Novo Nordisk (NOVOB); Nurix (NRIX); Nvidia (NVDA); Oxford Nanopore Technologies (ONT); PRIME Medicine (Not listed); PRIME Medicine (Not listed); Pacific Biosciences (PACB); Pfizer (PFE); Roche (ROG); Sanofi (SAN); Seagen (SGEN); Telesis Bio (Not listed); Twist Biosciences (TWST); UniQure (QURE); Veeva (VEEV); Vertex (VRTX); Verve Therapeutics (VERV)
Sources
Atonra
Companies' reports
Endpoints news
Evaluate
Fierce Biotech
Financial Times
Global Data
Nature
Refinitiv
STAT news
WHO
WSJ
imaa institute
Back to all articles
Explore:
Disclaimer
This report has been produced by the organizational unit responsible for investment research (Research unit) of atonra Partners and sent to you by the company sales representatives.
As an internationally active company, atonra Partners SA may be subject to a number of provisions in drawing up and distributing its investment research documents. These regulations include the Directives on the Independence of Financial Research issued by the Swiss Bankers Association. Although atonra Partners SA believes that the information provided in this document is based on reliable sources, it cannot assume responsibility for the quality, correctness, timeliness or completeness of the information contained in this report.
The information contained in these publications is exclusively intended for a client base consisting of professionals or qualified investors. It is sent to you by way of information and cannot be divulged to a third party without the prior consent of atonra Partners. While all reasonable effort has been made to ensure that the information contained is not untrue or misleading at the time of publication, no representation is made as to its accuracy or completeness and it should not be relied upon as such.
Past performance is not indicative or a guarantee of future results. Investment losses may occur, and investors could lose some or all of their investment. Any indices cited herein are provided only as examples of general market performance and no index is directly comparable to the past or future performance of the Certificate.
It should not be assumed that the Certificate will invest in any specific securities that comprise any index, nor should it be understood to mean that there is a correlation between the Certificate's returns and any index returns.
Any material provided to you is intended only for discussion purposes and is not intended as an offer or solicitation with respect to the purchase or sale of any security and should not be relied upon by you in evaluating the merits of investing inany securities.
Contact